Ceramics artist Isabella Abasolo has created her very own dream home in the idyllic village of Campos and finally feels fully settled after some eventful times on the island.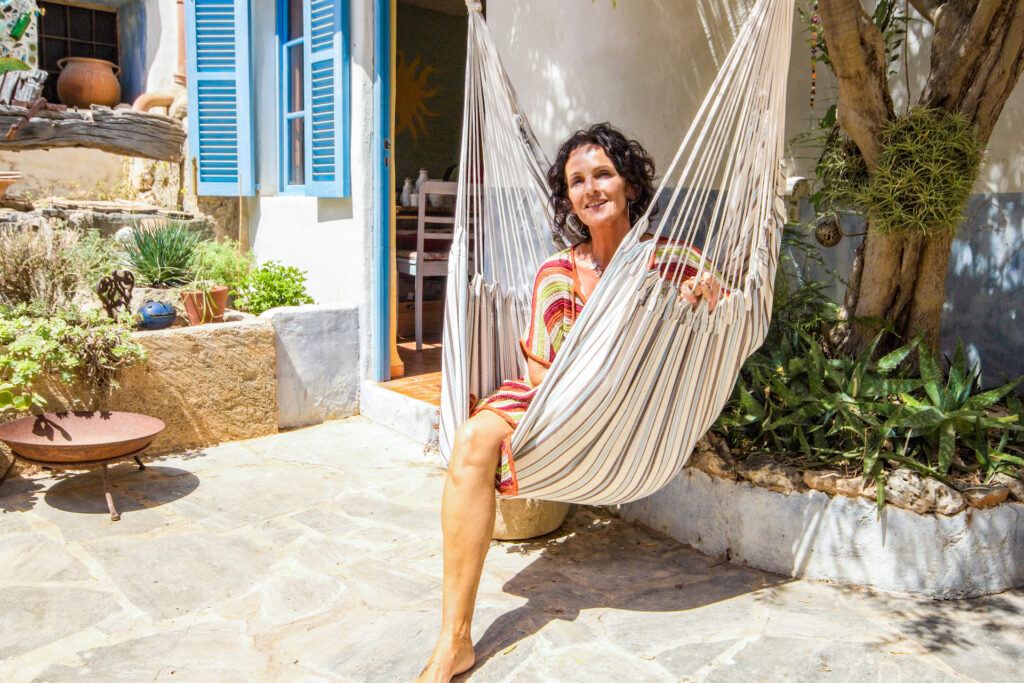 When Isabella came to Mallorca, 22 years ago, it was clear to her from the very first moment that Mallorca is simply the place where she belongs. After some ups and downs, she has now found her final happiness in Campos.
Actually, it was supposed to be a new start for the whole family when Isabella emigrated to Mallorca with her Ex husband exactly 22 years ago. In the end, everything turned out quite differently than planned, and yet everything is now exactly as it should be.
Against all reason, she decided to stay alone with her children and a newly bought, ruinous finca in Llucmajor after her husband's separation.
–"The finca was a real project, I even tiled the roof all by myself."
For a whole year she tried her very best to manage the project of building a house and a family on her own. But giving up was never an option for Isabella:
–"The first year was very intense, but after that my own personal success story starts in Mallorca."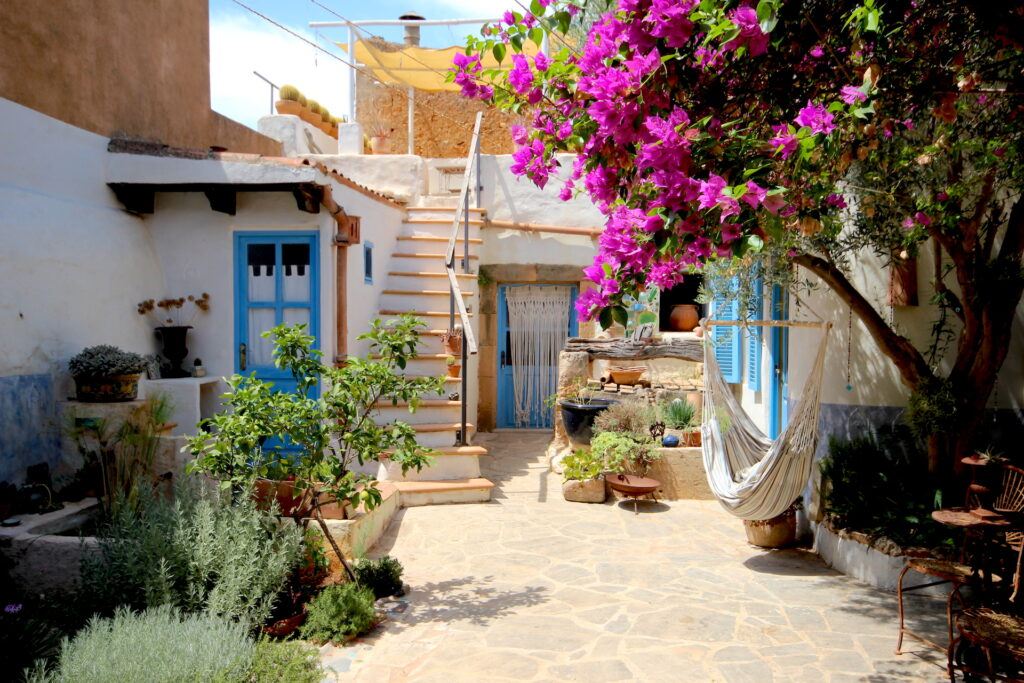 Isabella finally managed to sell the house in Llucmajor and moved to Palma. There she was also looking for a new job, and then it happened, she met her current husband Alberto at work:
–"It was love at first sight, today I think he was secretly the reason why I stayed on the island against all odds."
The two bought a flat together in Palma and lived there for 13 years, until it was time for something new again and Isabella looked for a new job in Santanyi. And so fate took its course with their new house in Campos. Actually, her original plan was to buy a house in Palma and the surrounding area, and even then Isabella's attention was repeatedly drawn to this house in Campos.
–"I was looking for a house in Palma and the surrounding area at the time, and constantly this beautiful house in Campos was suggested to me. But at that time, Campos was not an option for us."
A year later, however, when her husband also eventually got a new job near Santanyi and the long drive to Palma just became too much, they widened their search. And as fate would have it, this particular house in Campos came to Isabella's attention again, and she was finally ready to view it
–"When we walked into this house I grabbed my husband by the arm and said this is it, this is our house."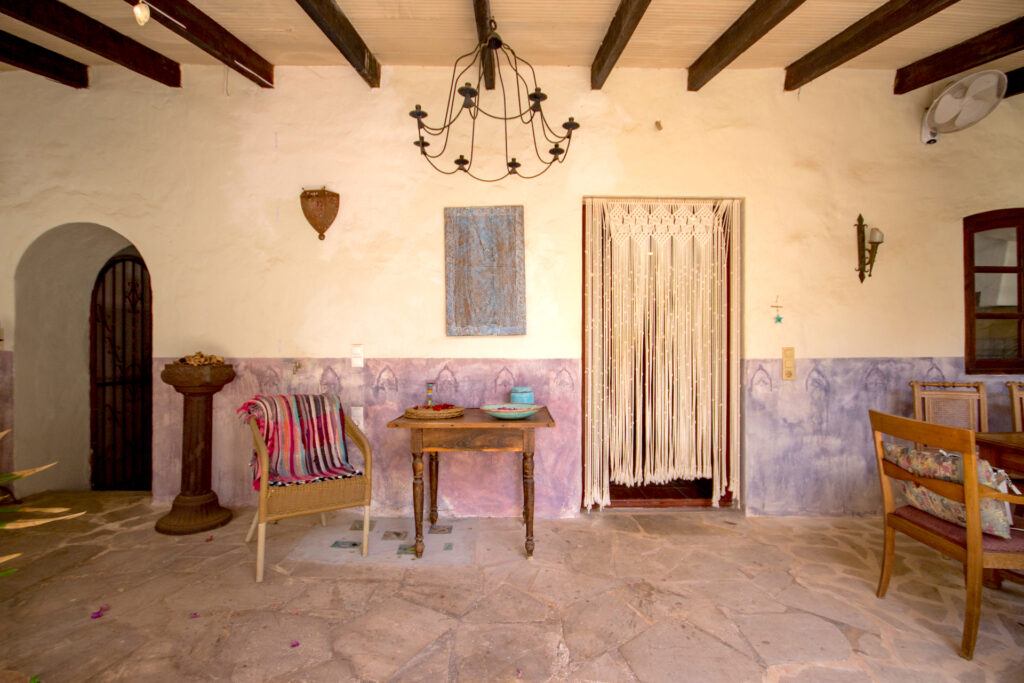 Even though it was in a completely different condition when they bought it to what it is now, Isabella instinctively just knew that this house was exactly the right one for them. Immediately afterwards, the two of them began to remodel the house according to their ideas. Today, there is not much left of the old home.
–"For a year we worked here every weekend, demolishing, painting, plastering. But now the house is exactly as we imagined it."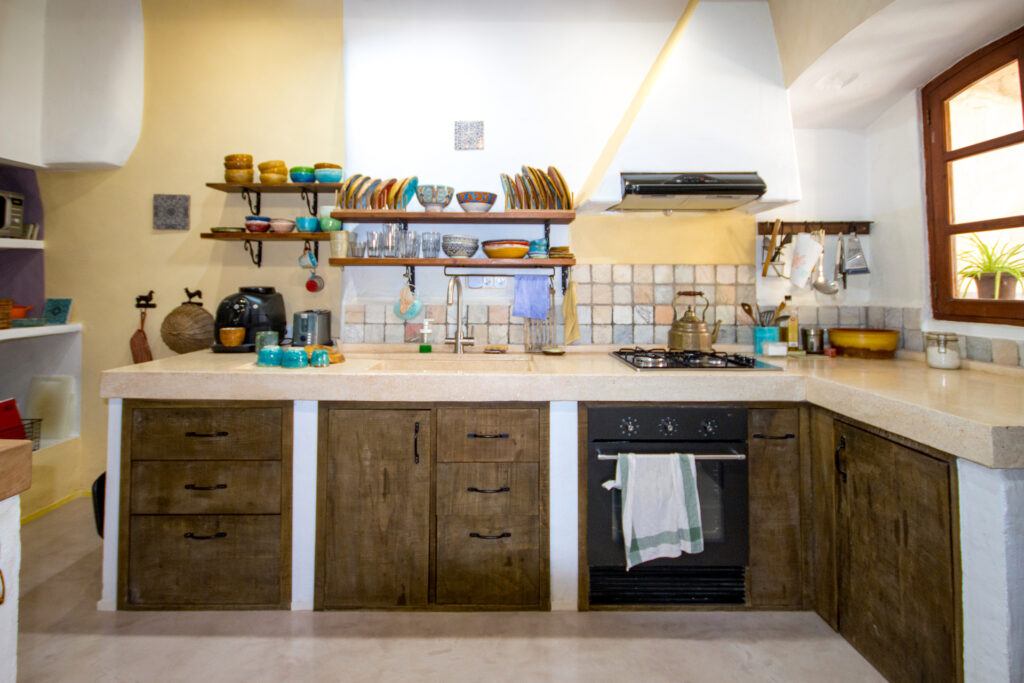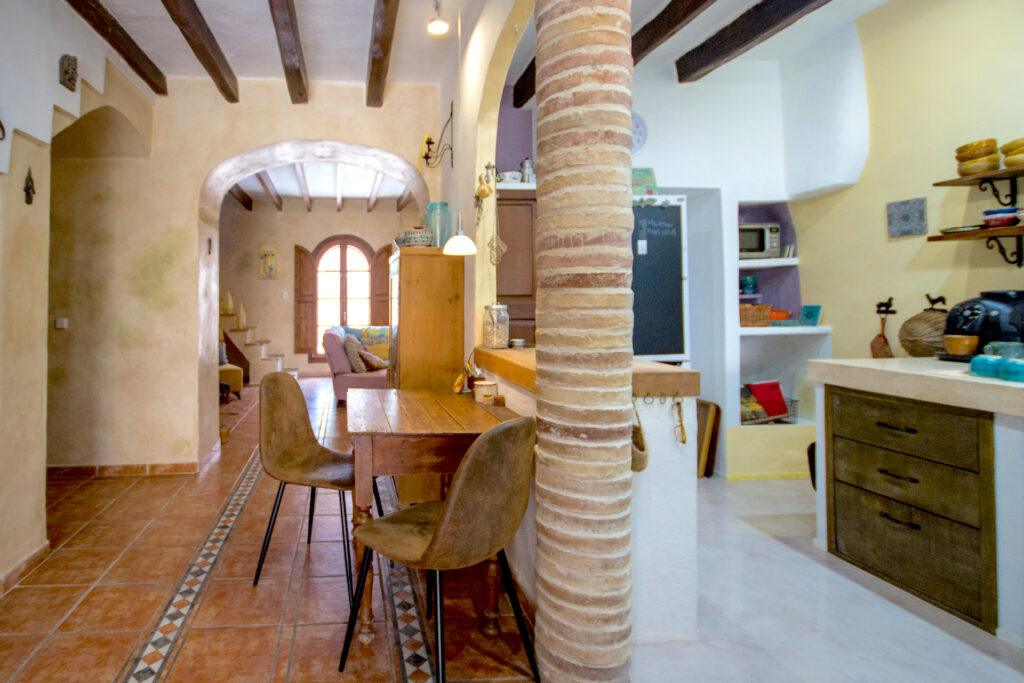 And it is clear throughout the house that Isabella has put her heart and soul into it, and that everything has been decorated and designed with great attention to detail. There is something to discover or marvel at in every corner, and yet everything fits together in the end.
–"My husband is more of a minimalist, but he is giving me all the freedom I need when it comes to designing the house, which is also something that I really enjoy doing."
Isabella often gets her ideas at night when she can't sleep, or she finds inspiration in any magazines and then implements them in her own unique way. In the end, the whole house is a piece of art by itself.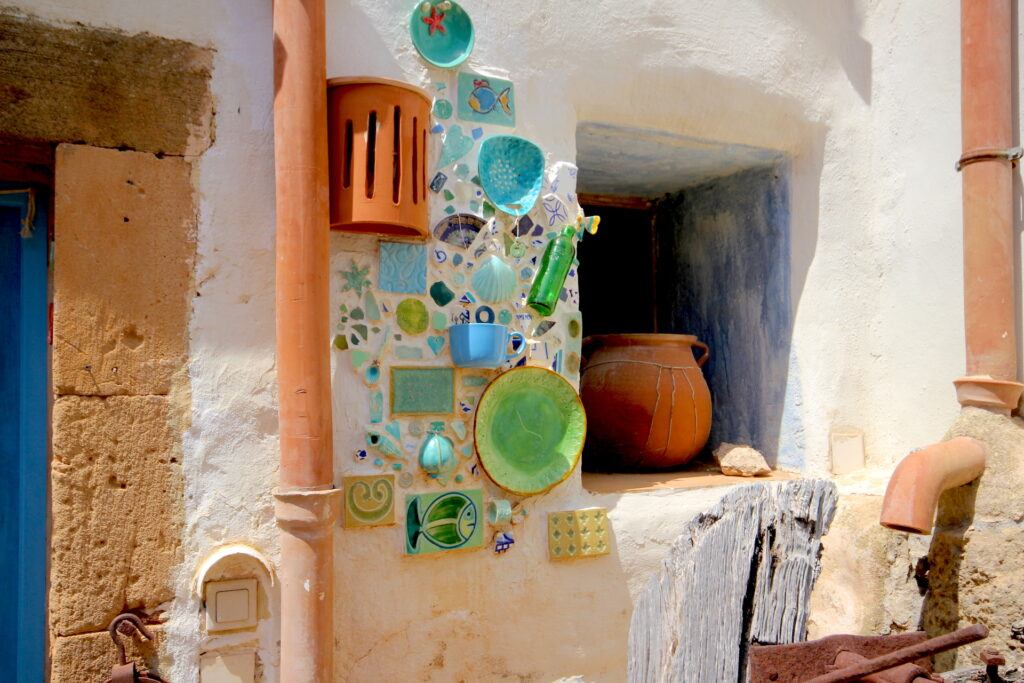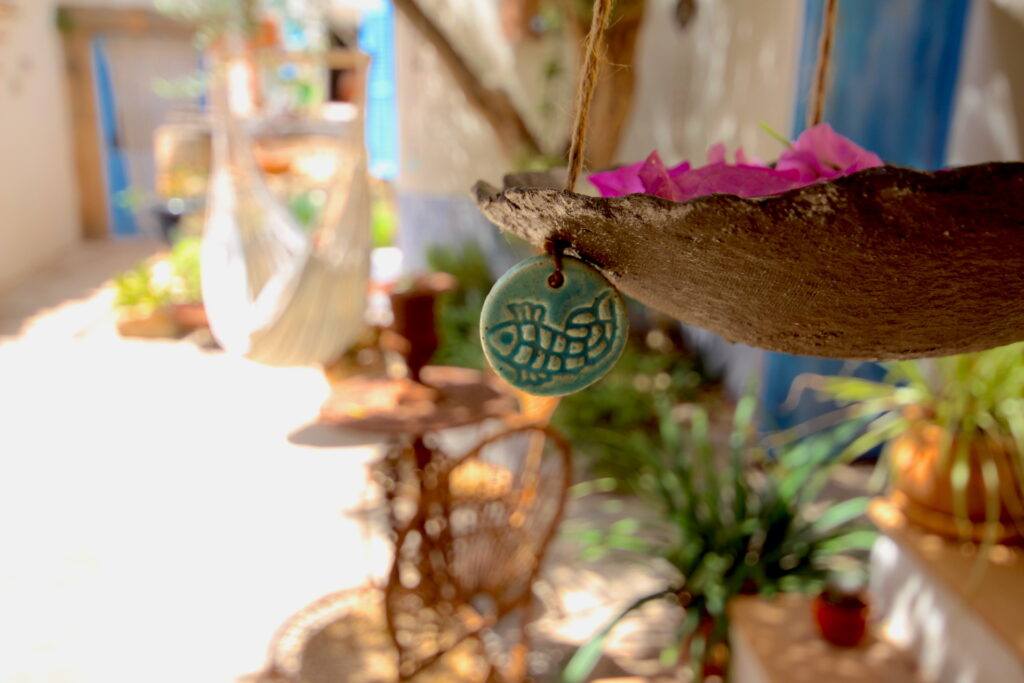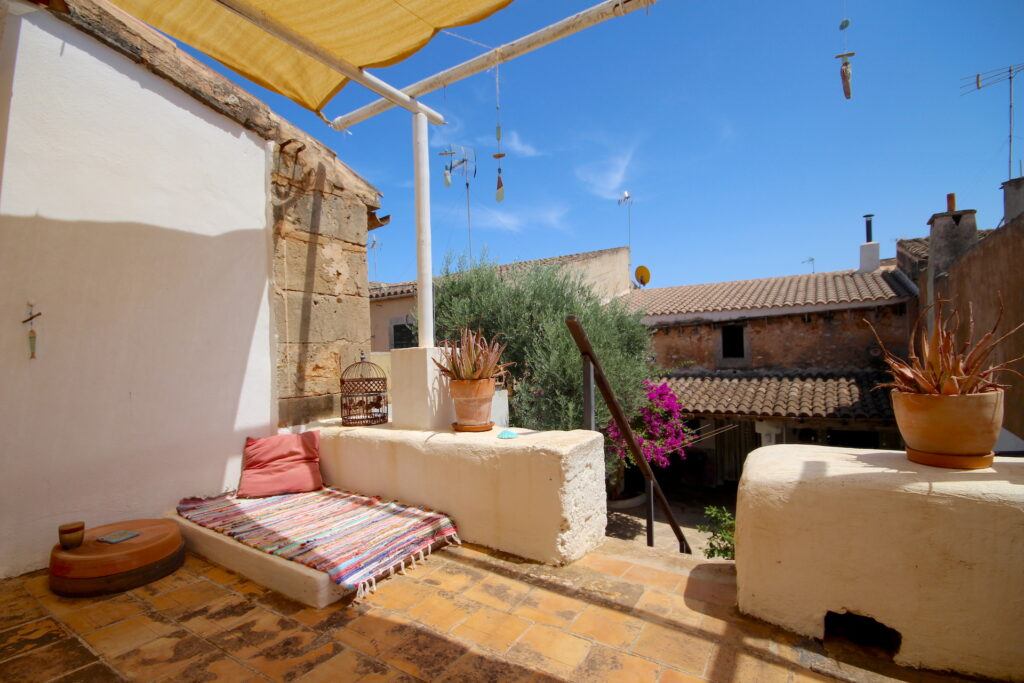 The last big project Isabella completed was the remodelling of the 20 sqm bathroom, which she designed and rebuilt within 4 weeks according to her own ideas. Now the room has become her little oasis of peace, where she even does her morning yoga sessions. But this is also the end of the major renovation work for the time being.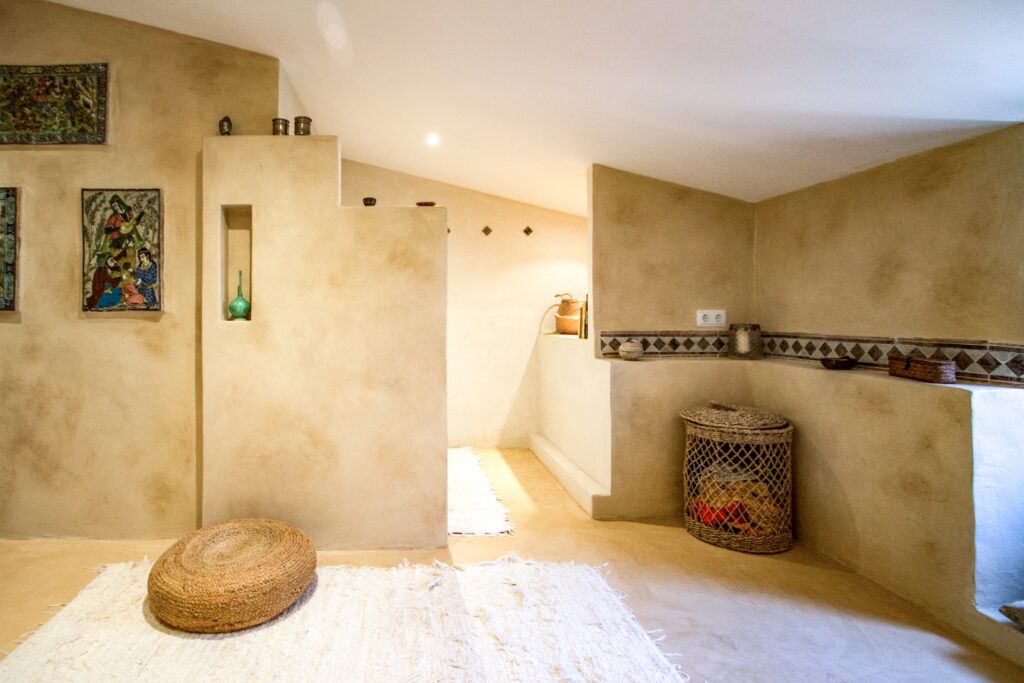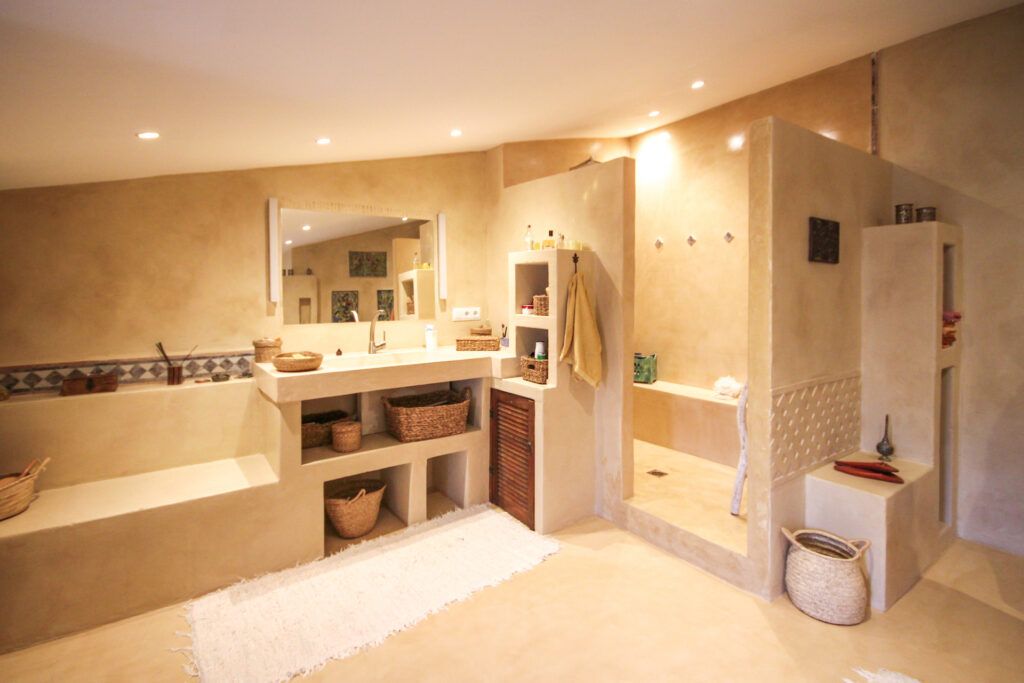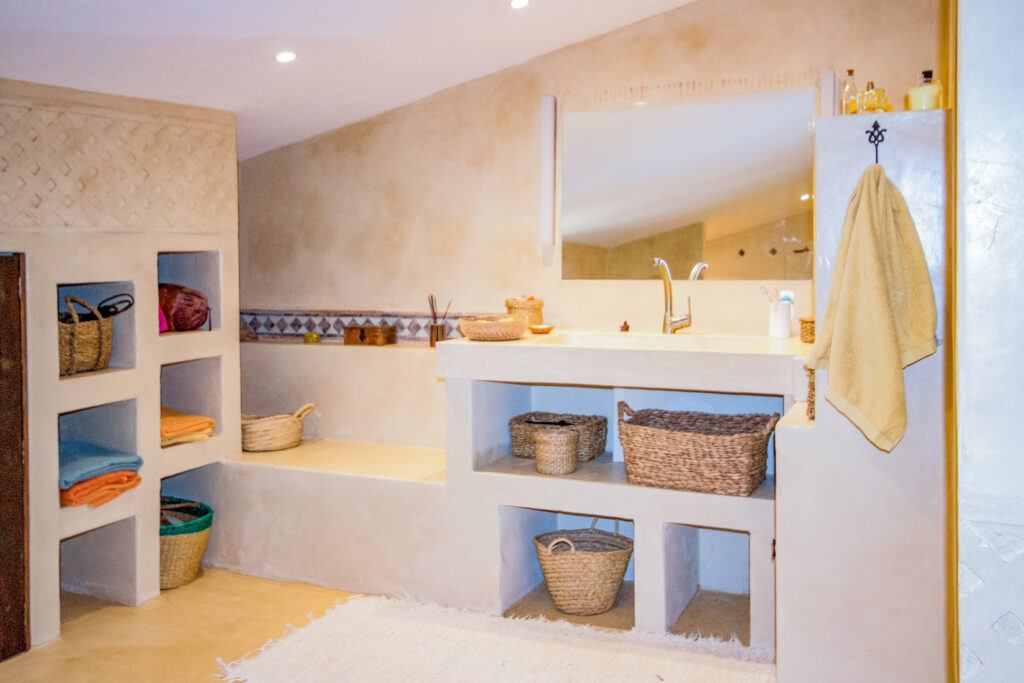 –"The house as it is now simply tells me that it is ready."
Above all, the beautiful courtyard garden is the highlight of the property. Here Isabella and her husband Alberto enjoy absolute tranquillity, isolated from the hustle and bustle of the village.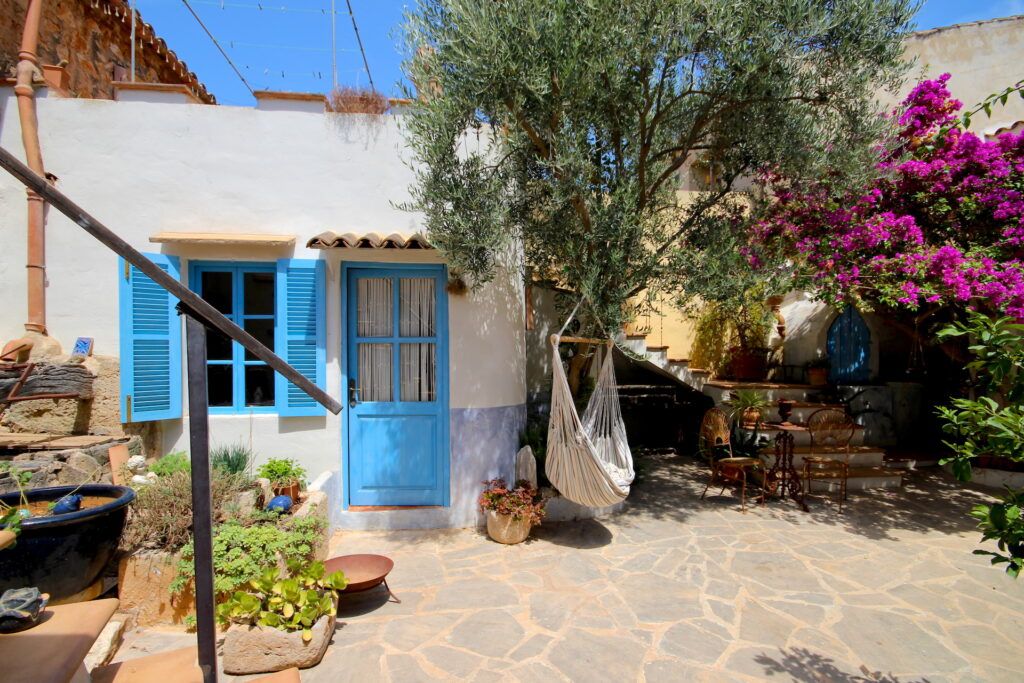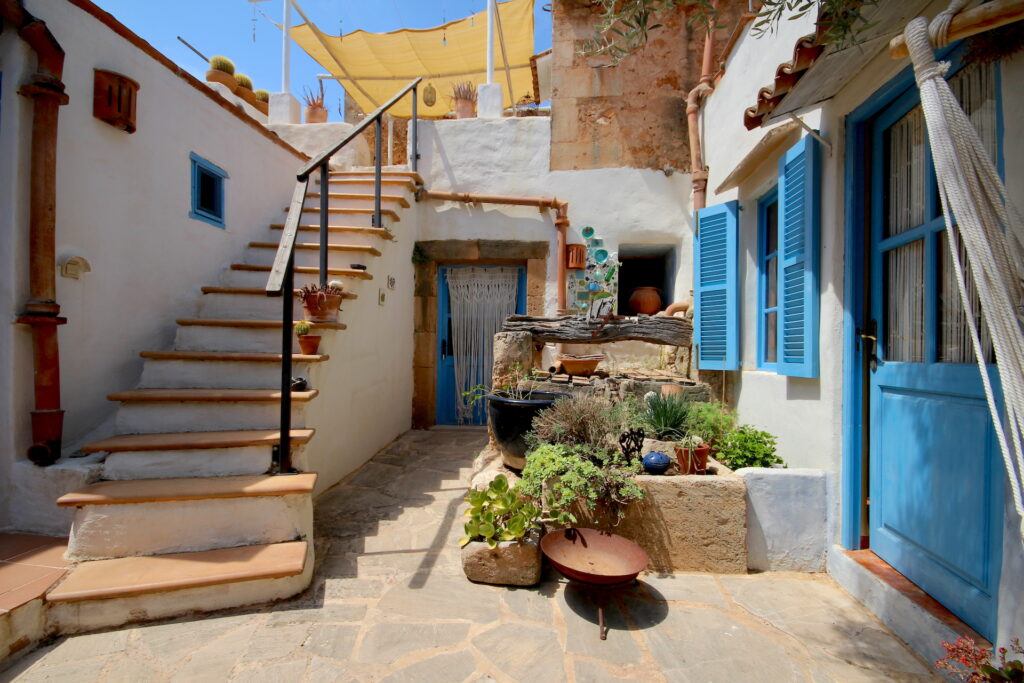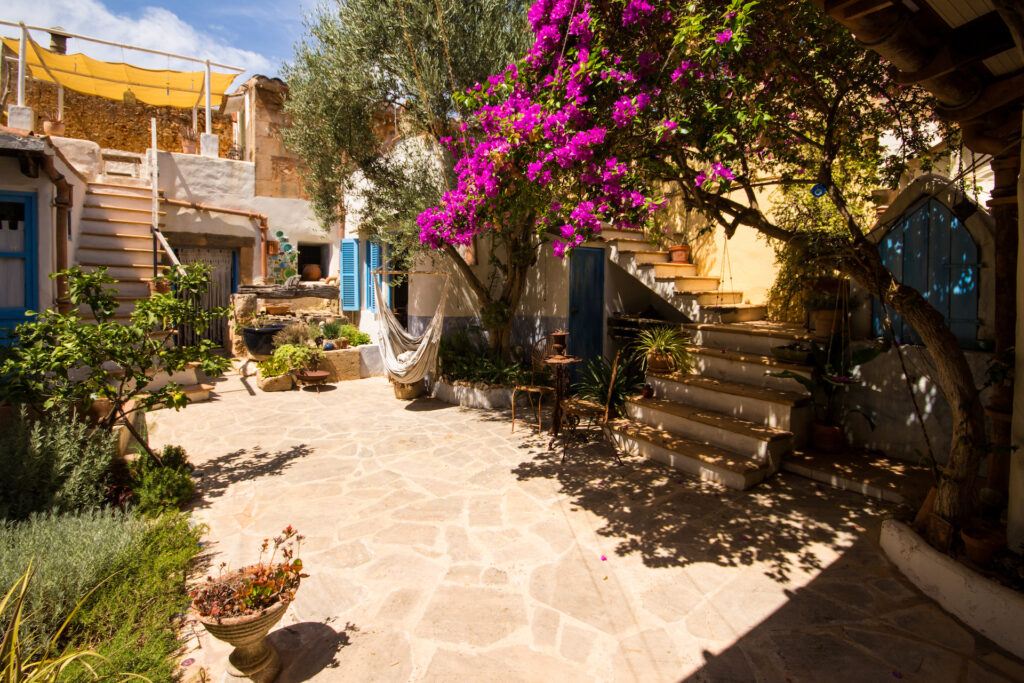 Nevertheless, they also enjoy a lively social life, they like to go around the corner for a bocadillo, or they visit the market every Saturday. They also love to explore the area by bike, and the sea is also not far away.
–"The house in Campos has also brought us a lot of social contacts, which we enjoy very much".
Another wonderful coincidence is that Isabella is a ceramics artist and pottery is her real passion and the previous owner was a master ceramist as well. In the meantime, she has converted the old guest house into her ceramics studio where she offers her ceramics workshops with all her heart and soul.
–"As soon as I saw the old guest house, I knew that this would be the perfect place for my future ceramics atelier".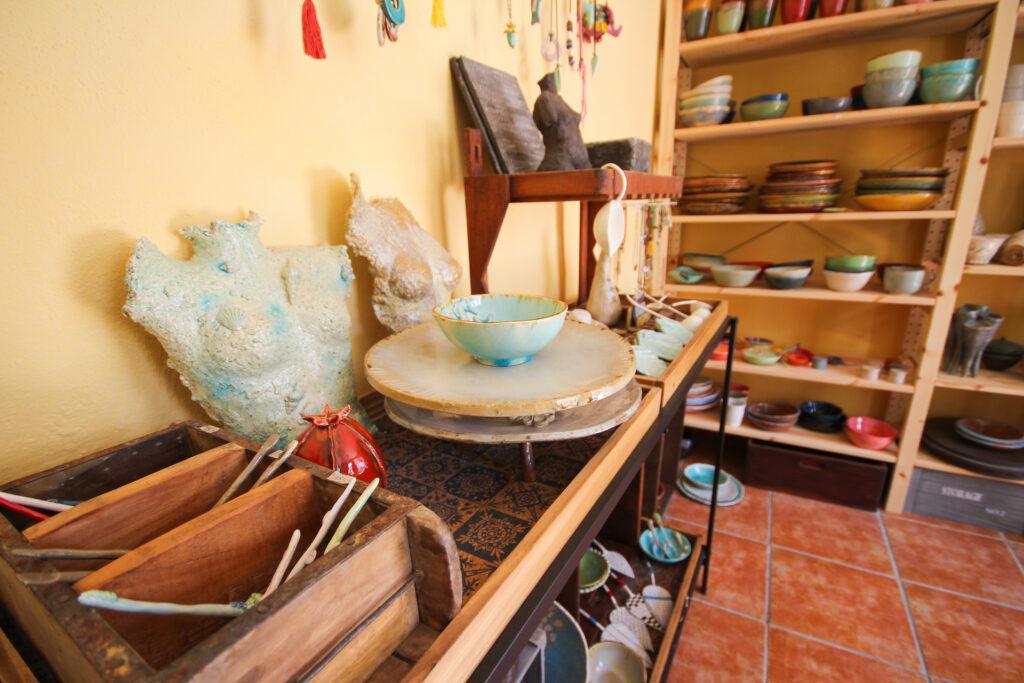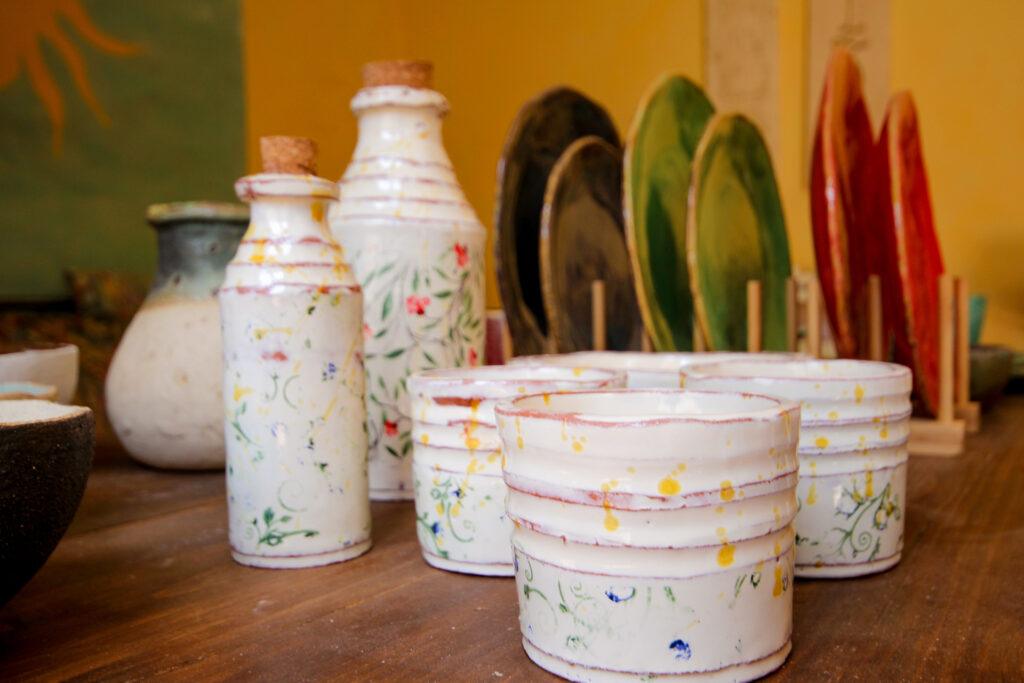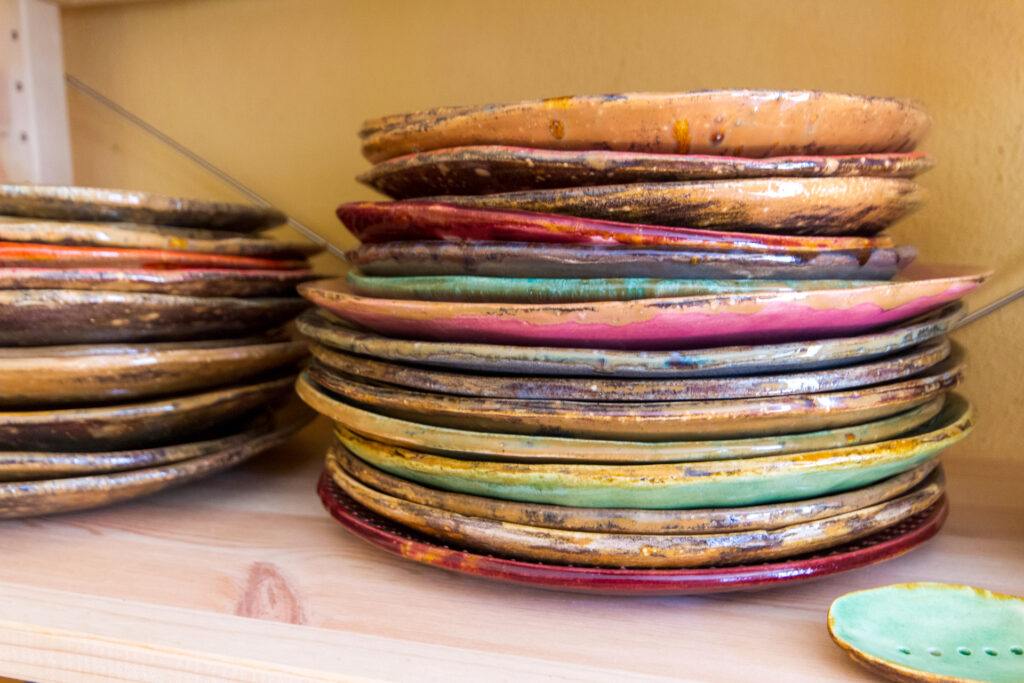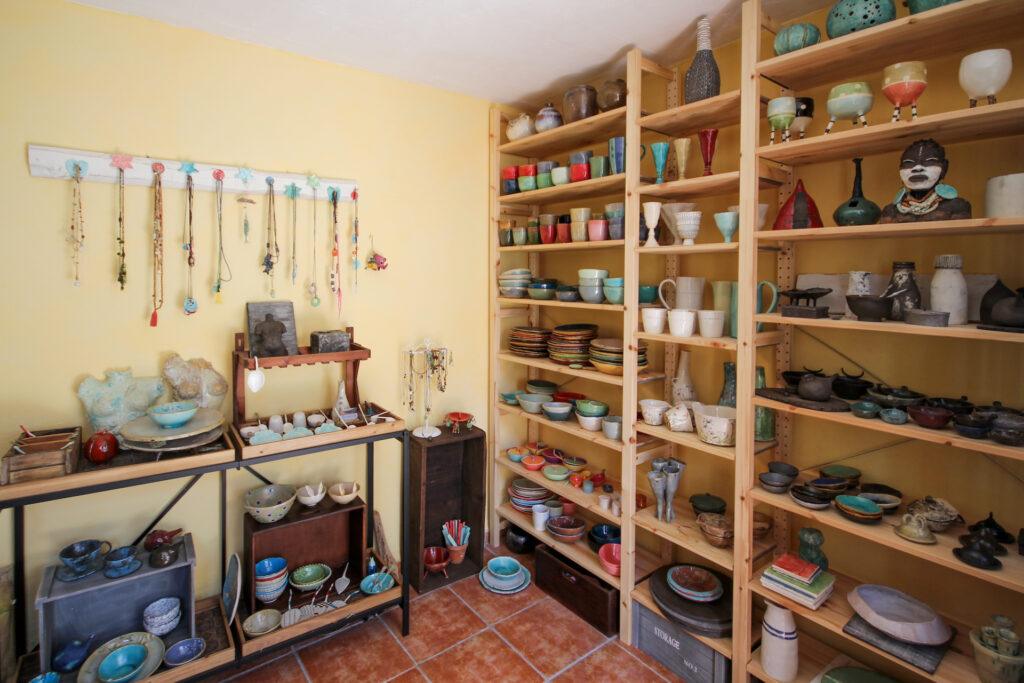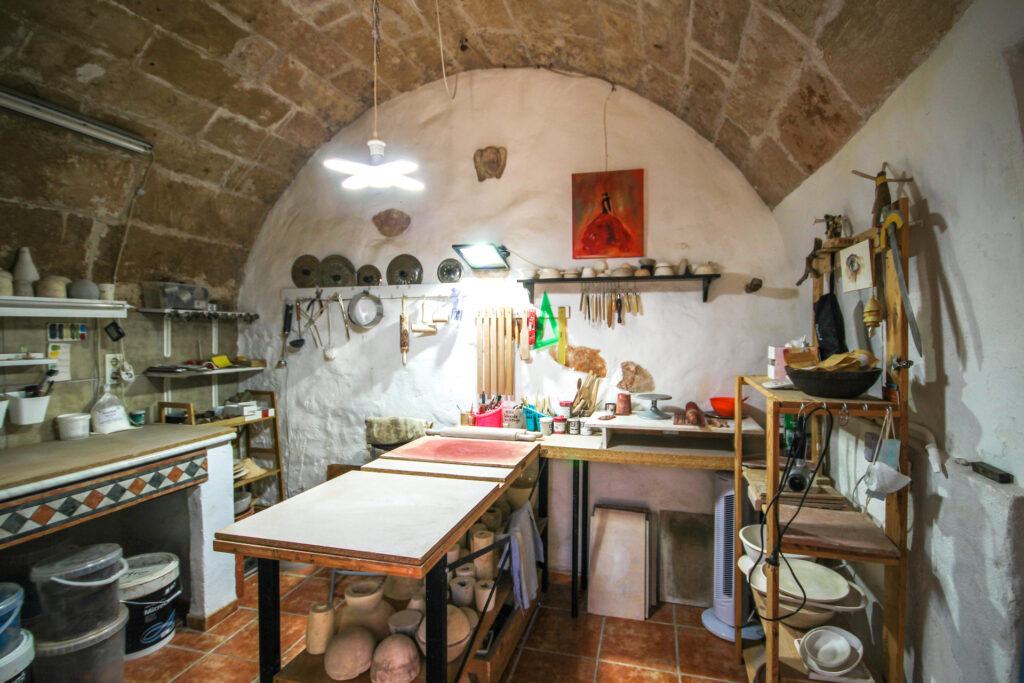 Through her courses and also her amazing ceramic art, which she sells in some shops such as the Moyi concept store in Cas Concos or Santanyí Home, she always meets new people and has therefore built a great network of friends who are not only connected by their love of ceramics. Again, the house is a great meeting place for her classes or comfy coffee breaks with friends.
–"I think it's nice that everyone feels comfortable and welcome here, it simply feels like home for everyone".
You can really feel this energy throughout the house, and Isabella can now also say that she has finally arrived fully on her dream island and in this wonderful house in Campos:
–"Everything that has happened in my life, even if it wasn't so great at times, has led me to where I am today."