The well known German artist Olaf Hajek has had a passion for art all his life. Now he has bought his own small studio and an apartment with sea view here in Mallorca, where he can completely unfold his creativity.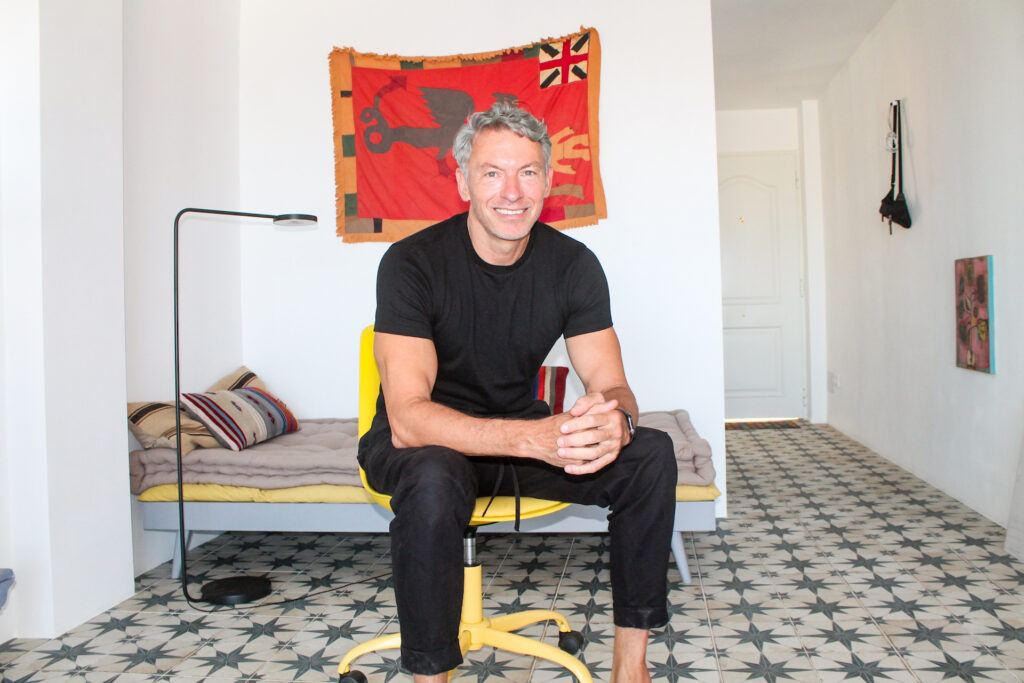 When you enter Olaf Hajek's studio in Cala Mayor, you are immediately greeted by an amazing sea view. Because of the large glass front, a lot of light flows into the room and the blue colours of the sky and the sea are shimmering through the windows. Right at the window front you see a large wooden table covered with brushes and colours on it, next to a big canvas with a colourful artwork – one of Olaf's current projects.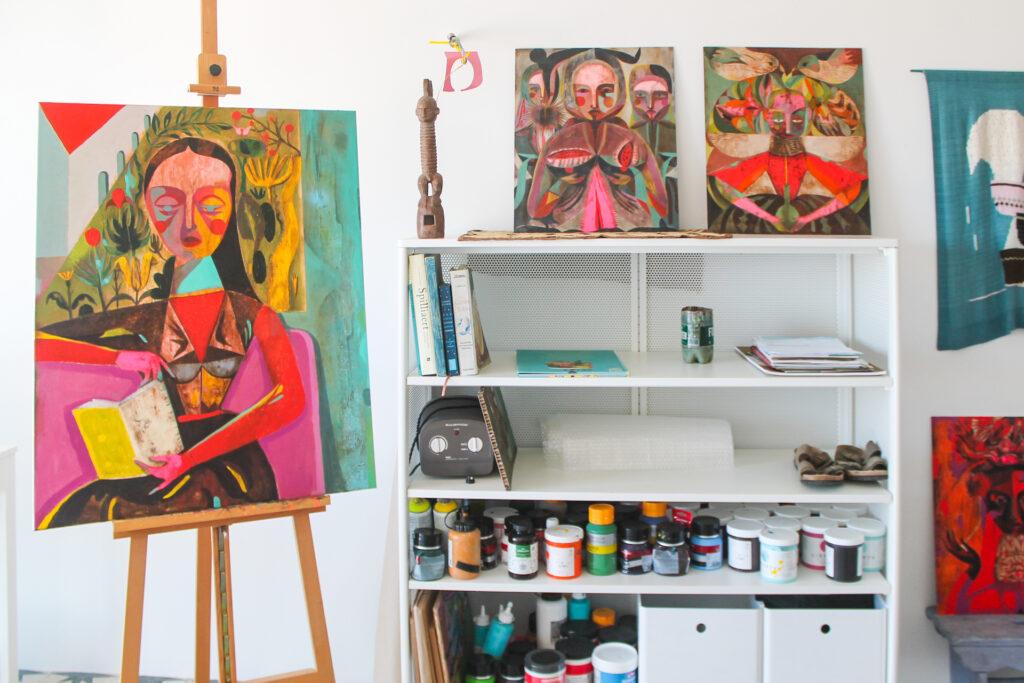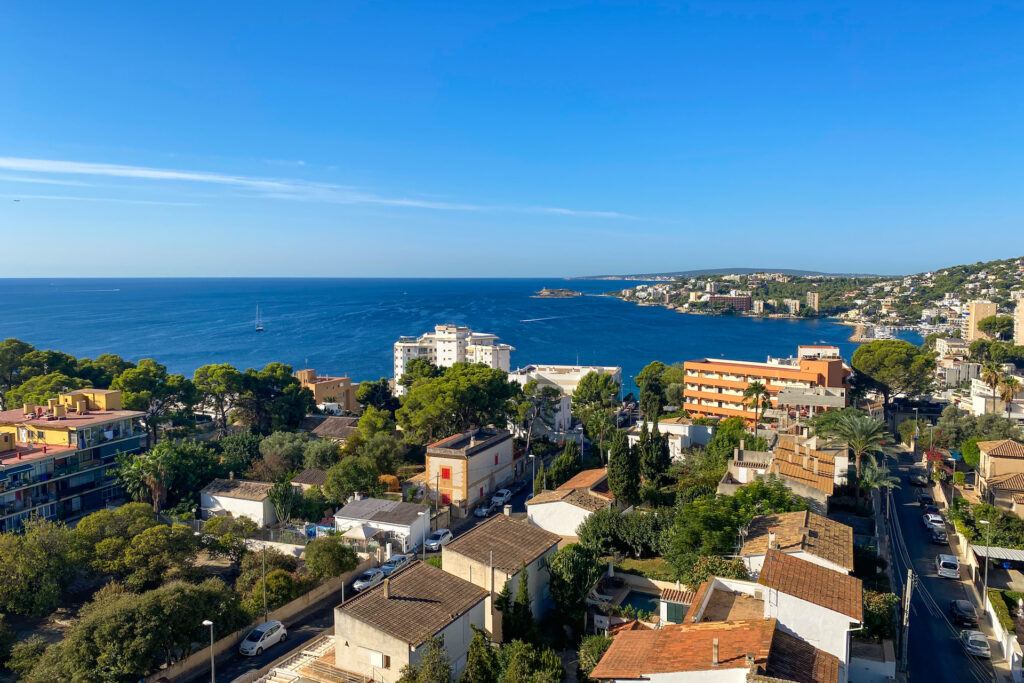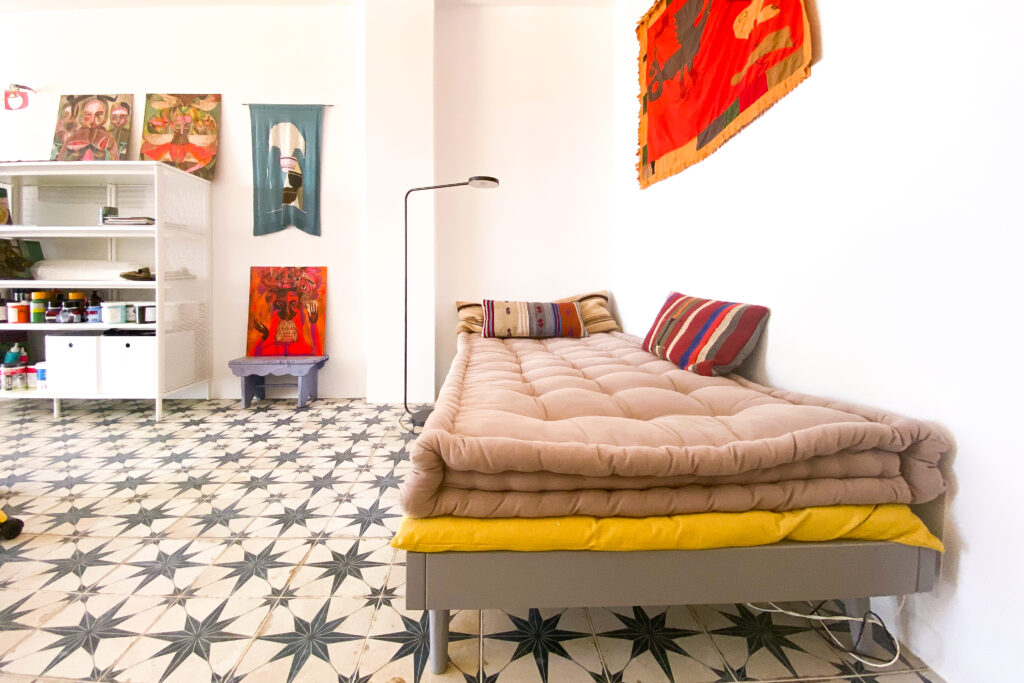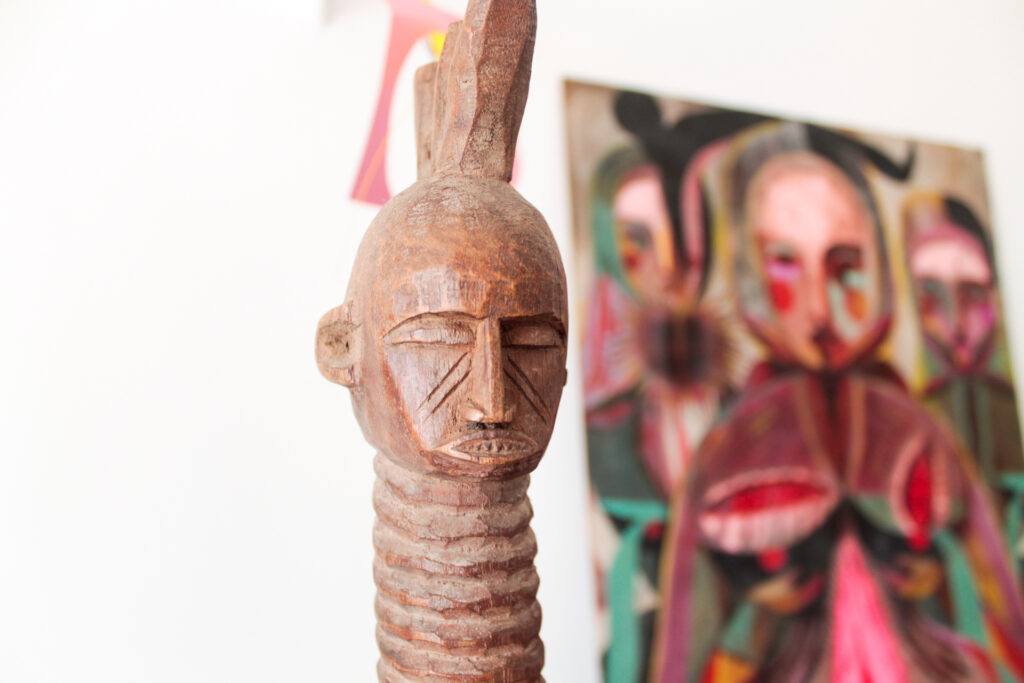 Here is the spot where most of Olaf's incredible paintings are being created and where he can work on his different pieces of art surrounded by peace and Mallorca's beautiful light. 
– "Art has actually fascinated me ever since I can remember." Olaf 
For almost 30 years now, Olaf has been internationally successful with his art and now Mallorca is the place where he can let his creativity run free and find inspiration for his work.
At the popular Bikini hotel in Port de Sóller, you'll be greeted with Olaf's artwork right at the entrance, as he designed the reception there. His latest project is the creation of the famous Christmas windows of Printemps in Paris, presented at the opening ceremony by superstar Naomi Campbell and French actress Isabelle Huppert.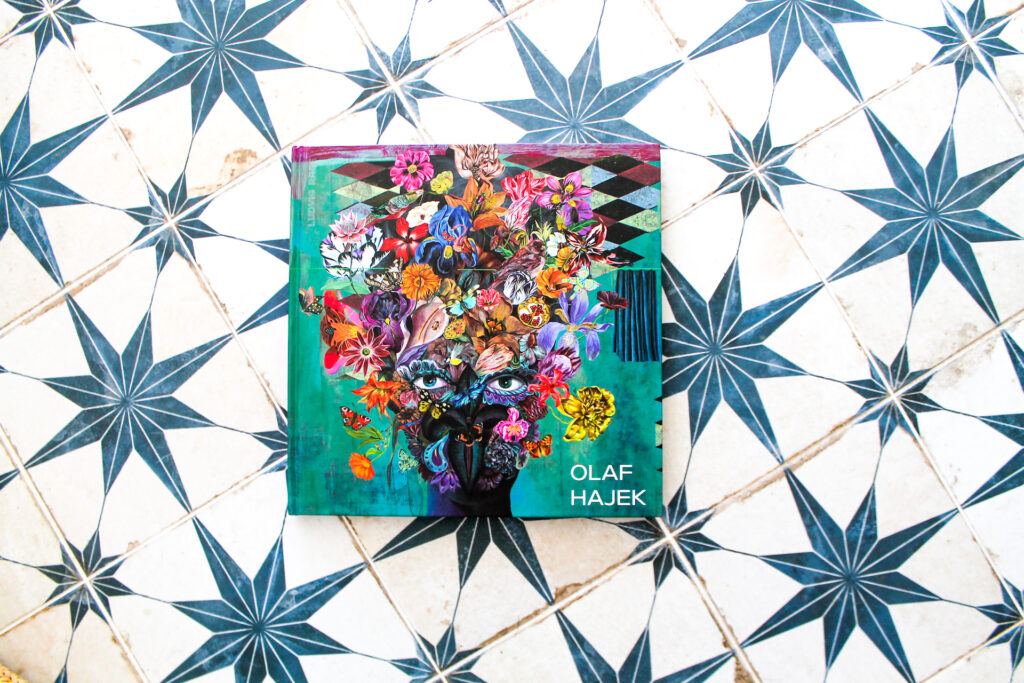 – "I think the light here in Mallorca is unbelievably great. And with this view out of the window, you can only feel inspired." Olaf 
Despite having his centre of life in the bustling city of Berlin, Olaf has always been drawn to different cities and the life abroad. For a very long time, he  spent three months a year in South Africa, or commuted between Berlin and London or New York, mostly due to his career. 
– "I couldn't be in any place in the world forever. I find it incredibly beautiful to have several homes. That's the way how I've always felt." Olaf 
But Mallorca was never actually on his list. The artist is also not one of the typical Mallorca tourists who come here every year; his love for Mallorca developed rather unexpectedly. 
– "We stayed in a hotel in Deia, 6 years ago, and I was blown away from the beauty of this island. Before that, I didn't realise how amazing Mallorca truly is". 
And after his stay in Deia, the fascination for Mallorca has not diminished. For Olaf and his husband, it was reason enough to start looking for apartments to buy on the island.
Thus, they were so fascinated from the Sierra Tramuntana, they finally found their happiness in the coastal town of Cala Mayor, outside of Palma de Mallorca. And they have found not only an apartment to live, but also a studio for Olaf where he can do his art. And the practical thing is that the studio and the flat are only a few minutes' walk apart. 
– "That's so great, I just have to quickly walk over to the other building, and I'm right in my own creative space and in my own little world." 
Above all, they really appreciate Cala Mayor as a neighbourhood. 
– "You simply have everything here. The various, beautiful beaches are close by, but the area also has something very urban, and then you can easily reach Palma's city center."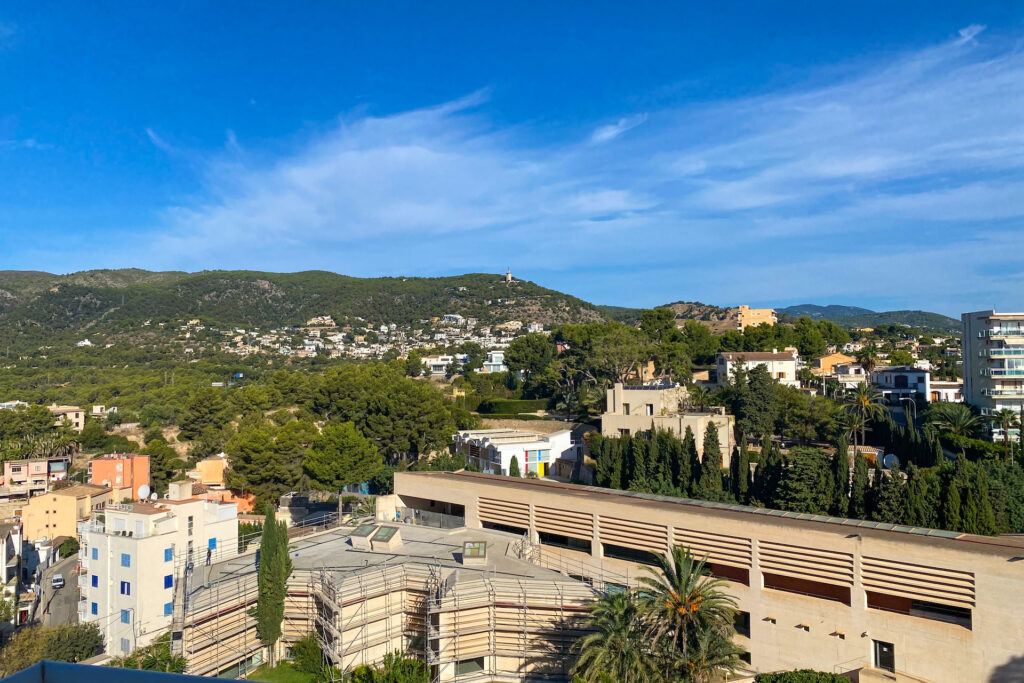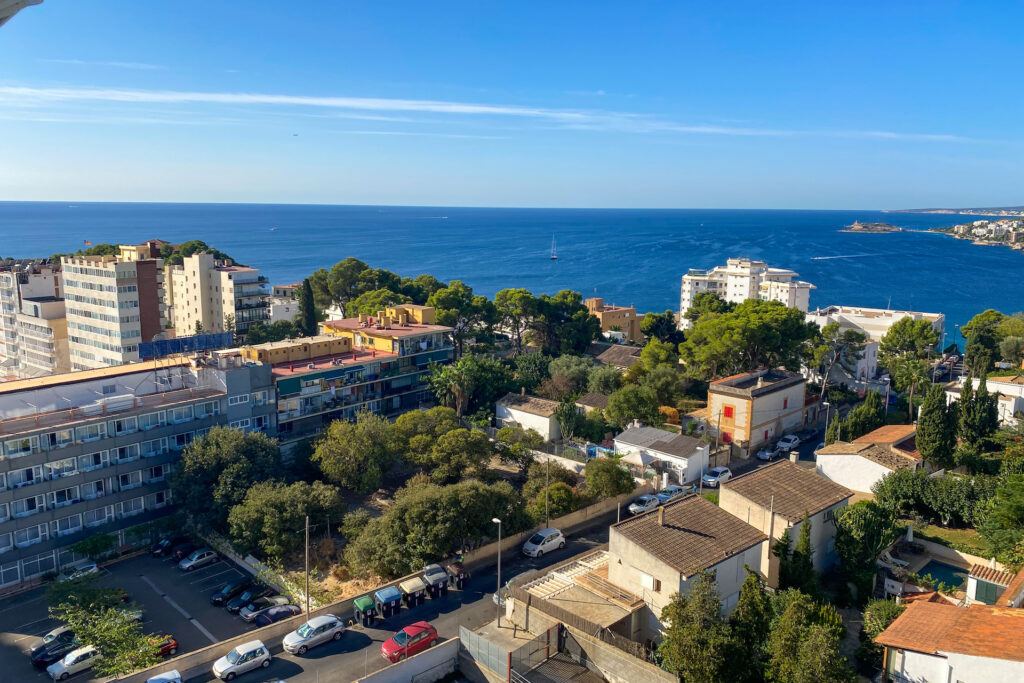 Even at night, Olaf finds Cala Mayor appealing.
– "The view at night sometimes reminds me of Tel Aviv, with all those lights, it's just magical." 
The advantage of having his second home in Mallorca is also the easy and quick connection to Germany. The artist likes the fact that he can spend several weeks here, but if it get's too much, he can also quickly catch a flight back to Germany. 
The combination of their lives in Mallorca and Berlin is anyway the ideal mix for the artist. Olaf likes to spend the summers in Berlin, and enjoys the off seasons here on the island.
– "Now is the time that I find Mallorca the most beautiful. The beaches are less crowded and the water is crystal clear. When you're on the beach in Illetas, you feel like you're at the end of the world and not close to Palma." 
When Olaf is not working on his projects, he loves to spend his free time exploring the island with his partner. The two of them enjoy to cycle along the sea promenade, have lunch in Portixol and then take a quick dip in the sea. 
– "Although you may already know many corners here, the island keeps surprising me." Olaf 
Also, he enjoys the traditional, more authentic atmosphere of the island, in comparison to the hip and trendy Berlin. One of his favourite things to do is to sit in one of the restaurants at the beach with a glass of wine or visit the fleamarket in Consell, where he always find some hidden treasures.  In addition to their relaxed lifestyle, the couple has also already built up a network of international friends here in Mallorca.
– "The island is a place where connections are quickly formed, and I find that very exciting here."
The same love and compassion Olaf puts into his painting and his way of living, he also put into the refurbishment and decoration of their apartment in Cala Mayor.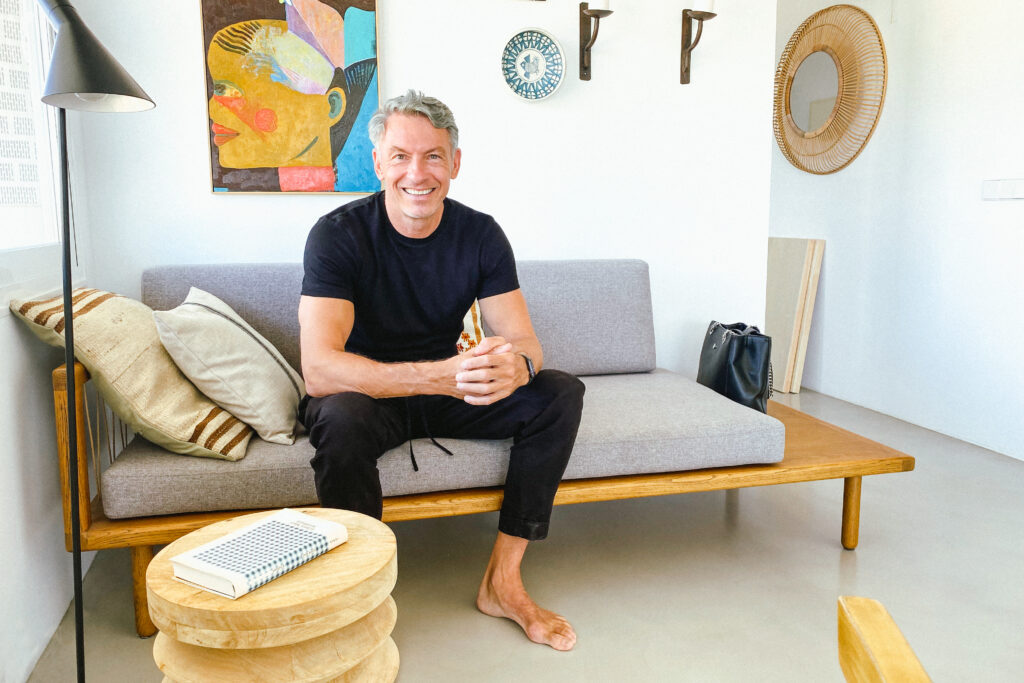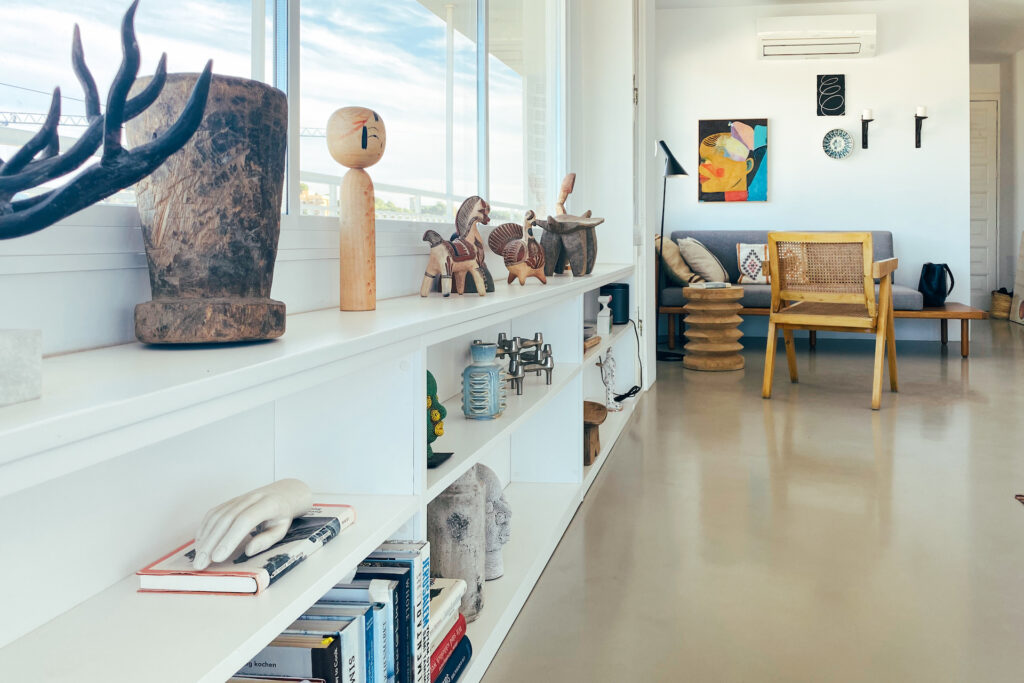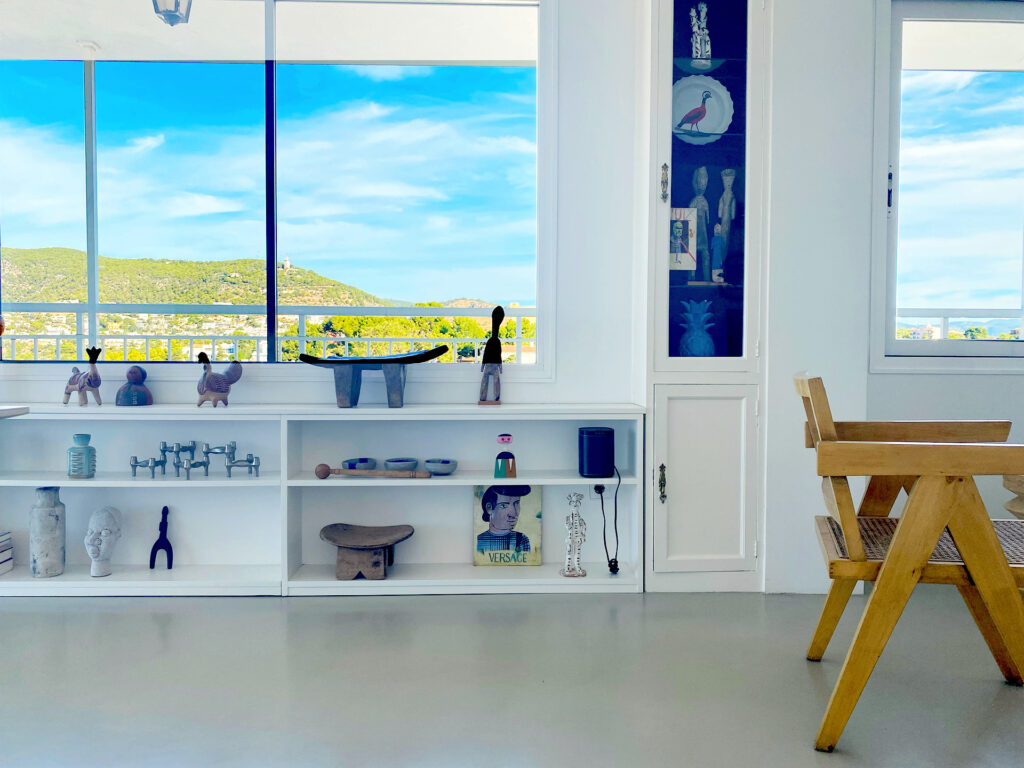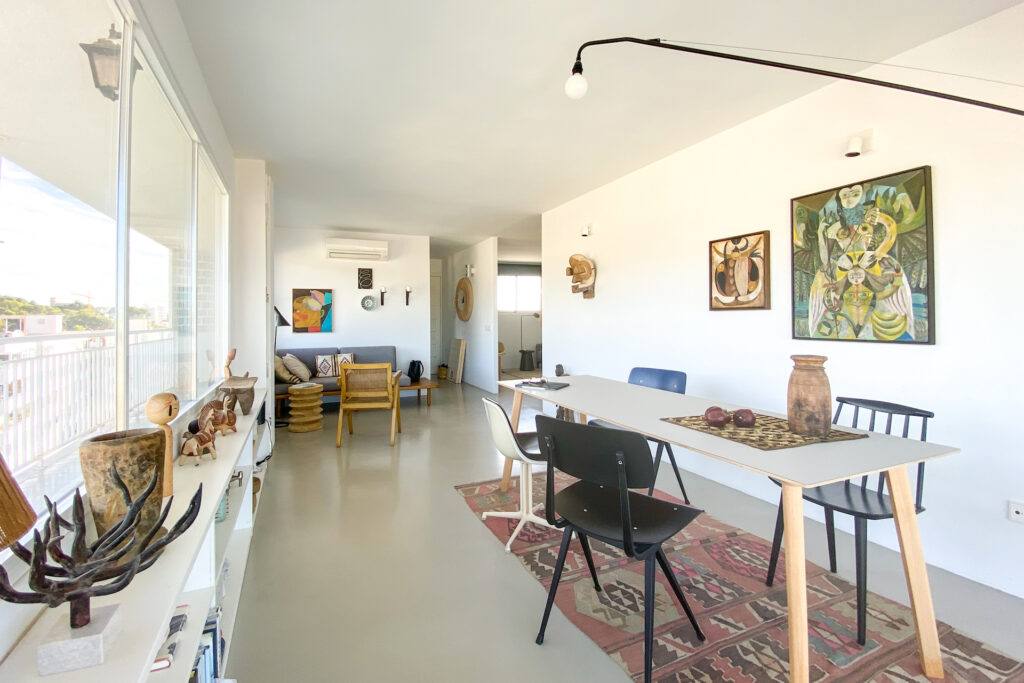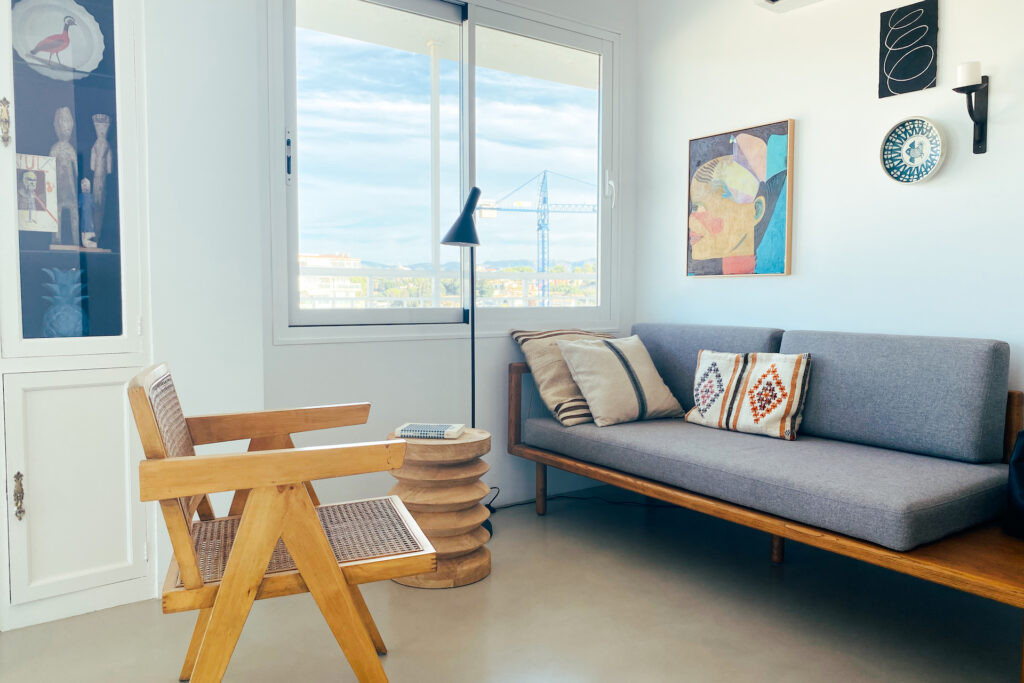 When the couple bought the property, it was in a completely different condition and has now turned into a real gem. 
– "Everything had to be redone here, but when I entered the flat and saw the view, I could not care less." – Olaf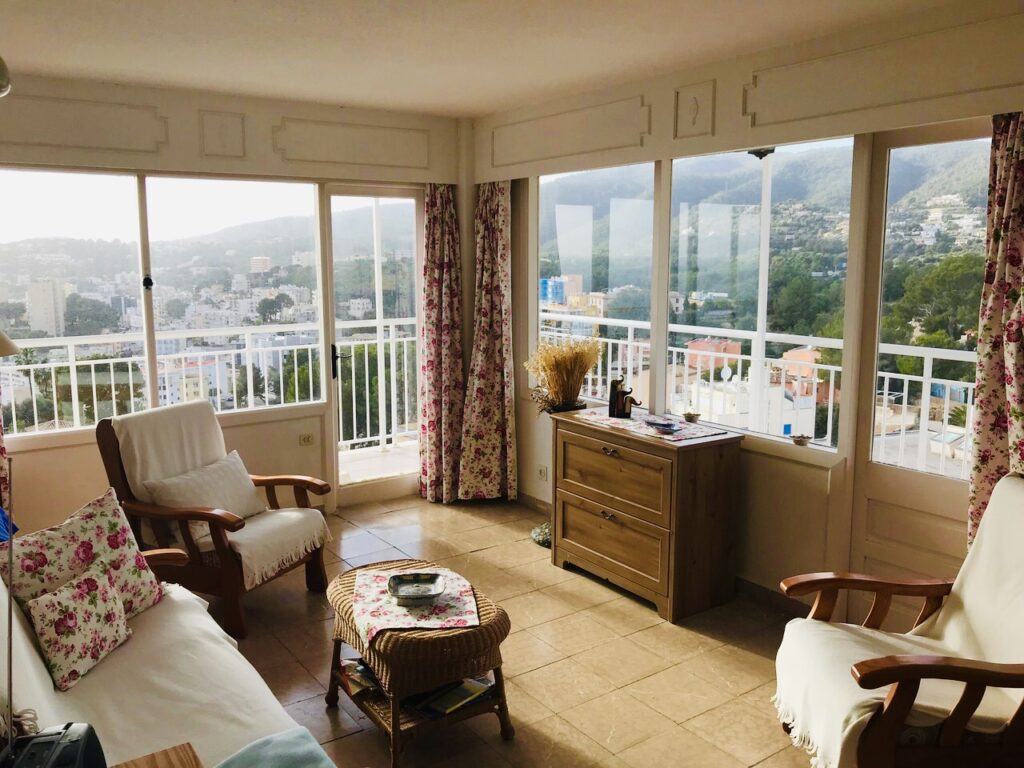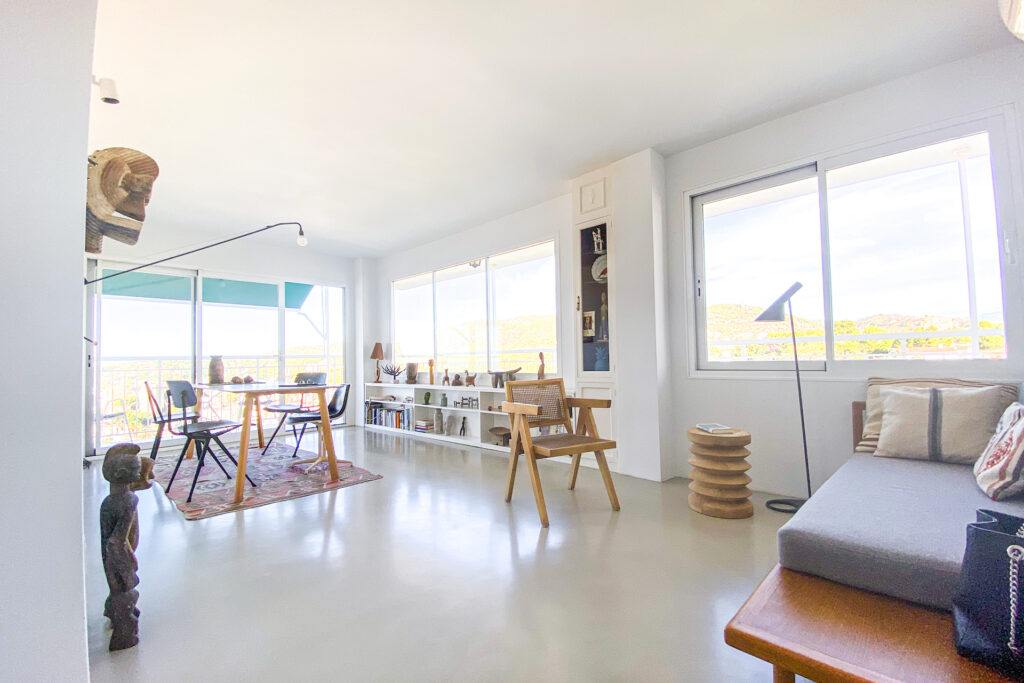 Typically for apartments in Cala Mayor, also Olaf's flat has a magnificent sea and mountain view and after the complete renovation of the property it has turned into a cosy home, with loads of light, open spaces and personal touch.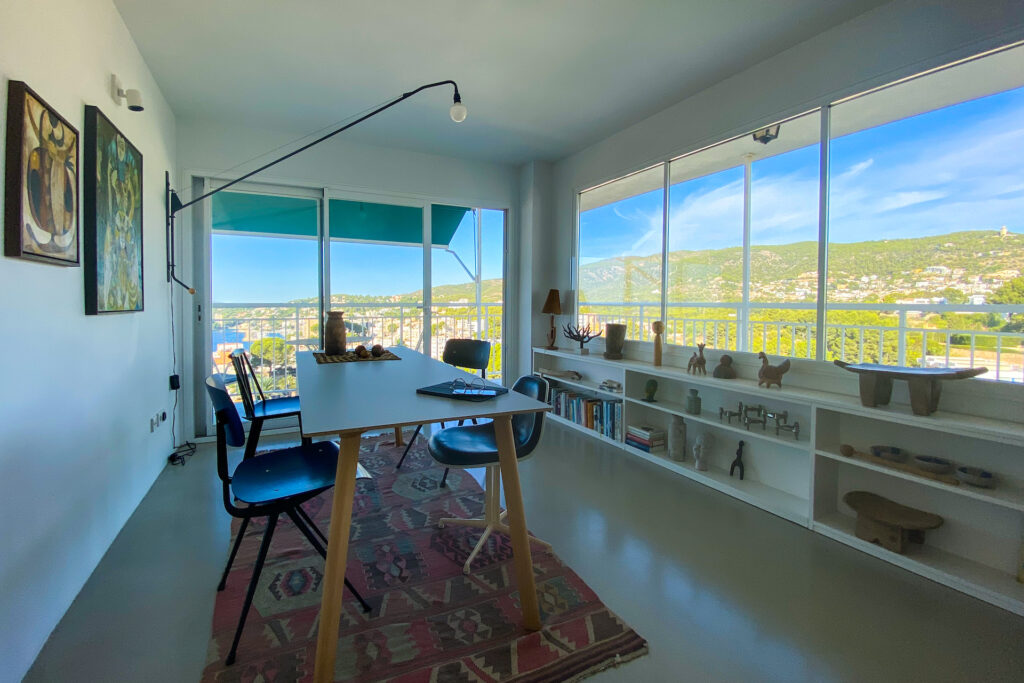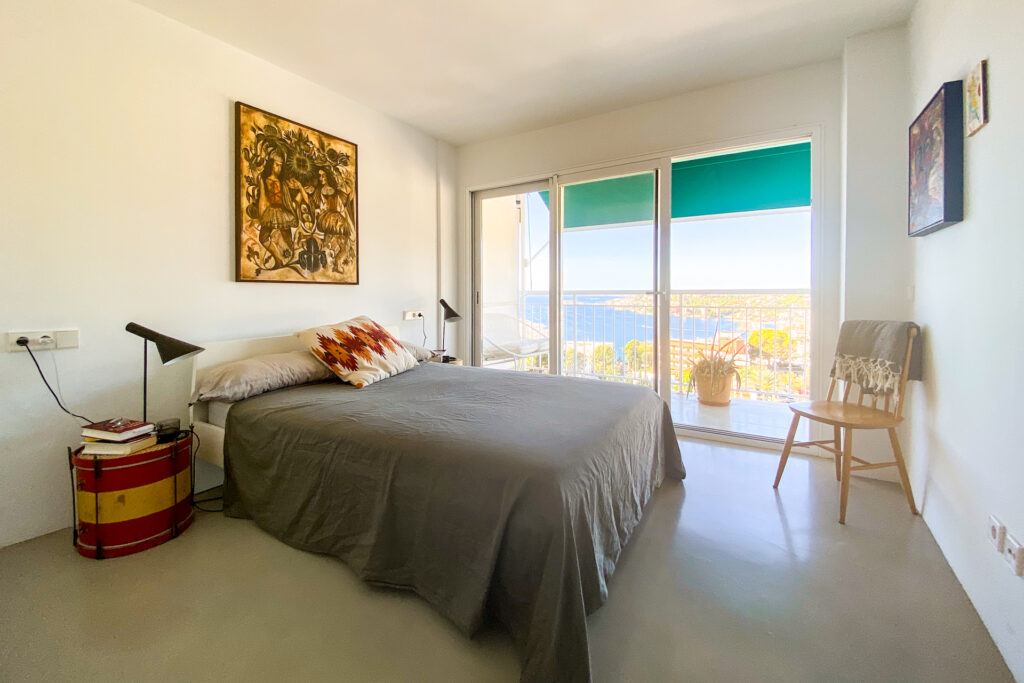 Although Olaf sometimes plays with the idea of buying a finca in the countryside, he knows that Cala Mayor is his happy place to be. 
"I can paint here, we can have friends over, I can start my day with a swim in the sea and then drink my coffee on my terrace before going to work. Living here truly means pure luxury to me!"
And if you want to have Olaf's extraordinary art also in your home, you can get his artwork here:
Kaplanprojects in Costa de Santa Creu 10a – Palma,
www. olafhajek.com or on Instagram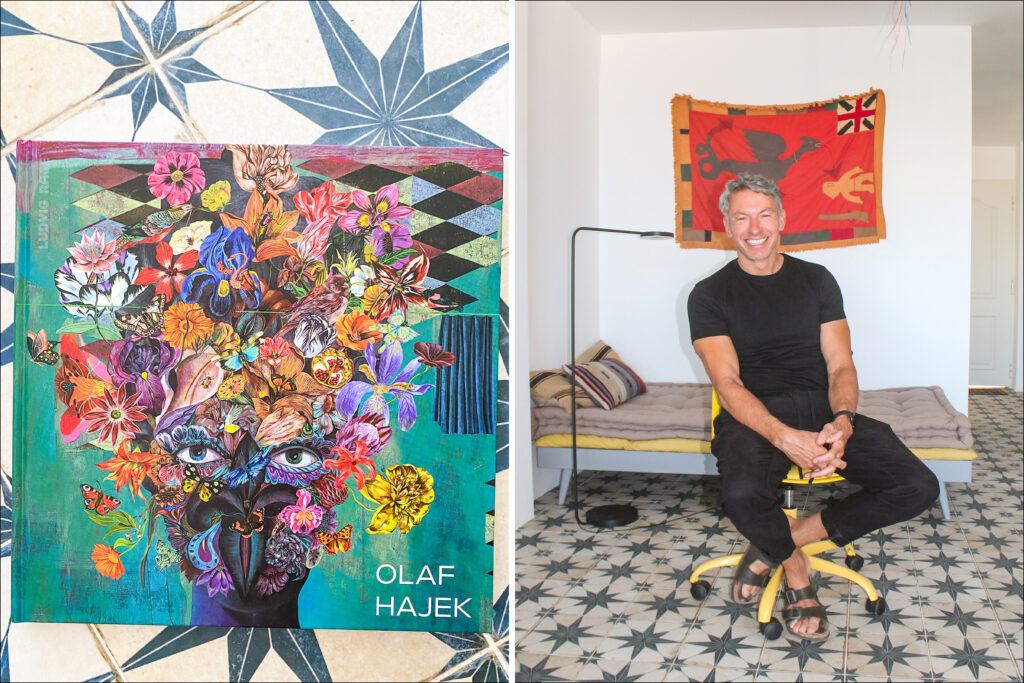 _______________________________
Text: Ines Stangl
Pictures: Madeline Stöckle