Many people only dream about moving to Mallorca, but what if you finally decide that it is time to buy a home here? This is exactly what happened to the Swedish couple Christina and Torbjörn who have found the perfect balance between Sweden and Mallorca and turned their penthouse into their dream home in no time.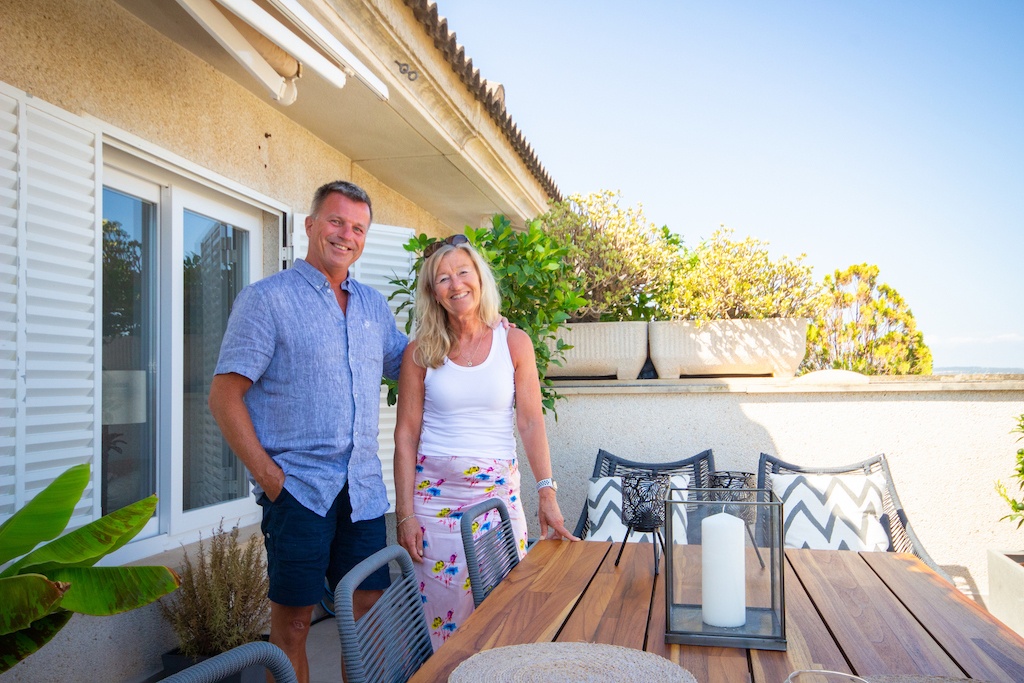 To the question asked why they have decided to buy a property in Mallorca, both automatically replied with "Why not?"
"Why not Mallorca? Mallorca has basically everything you need in a small area. Here you have the mountains, beaches and city vibes." Christina & Torbjörn
For many years the two used to come here for vacation and to visit friends who already lived here, and over the years the love and desire for Mallorca grew. Christina, who works in the marketing department of a big bank and Torbjörn, who owns his own film production company, especially love the diversity of Mallorca and for them the combination of living in Sweden and now also in Mallorca is the perfect combination. Also, because the island is the ideal place to fulfil the active lifestyle of the couple.
"We love to go for hikes, play padel or just cycle along the beach promenade, and here in Mallorca we can do all these activities."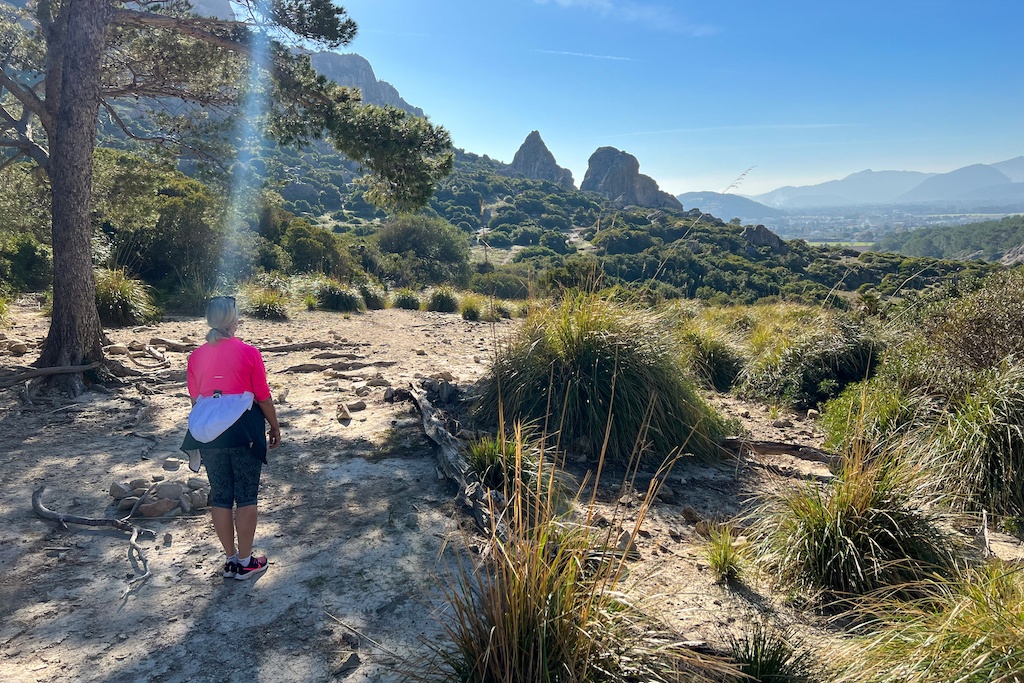 Not only are they part of several padel groups here and also enjoy to play tennis during their free-time but also the mountains of Mallorca are one major reason why they have chosen the island as their second home.
"We love to go for hikes here and enjoy the outdoors of Mallorca to the fullest." Christina & Torbjörn
That is why the decision to buy a property in Mallorca was the next logical step for these two. At this point they contacted our CEO Carin Isgard.
"I knew that Carin had her own real estate agency in Mallorca, but we were also in contact with other agencies." Christina
However, both agree that working with Buy a Home Mallorca felt most natural and comfortable to them.
"With Carin it really felt like she was working for us and cared about us and not that we had to chase someone for support." Christina & Torbjörn
And so Carin started the home hunting together with them and even though the couple tried to stay open regarding the location, somehow the area of Portixol/Molinar always has been on their mind:
"Portixol has always been our dream area. Here you can still see the Tramuntana mountains but also have the sea so close by, and it has a very local atmosphere." Christina & Torbjörn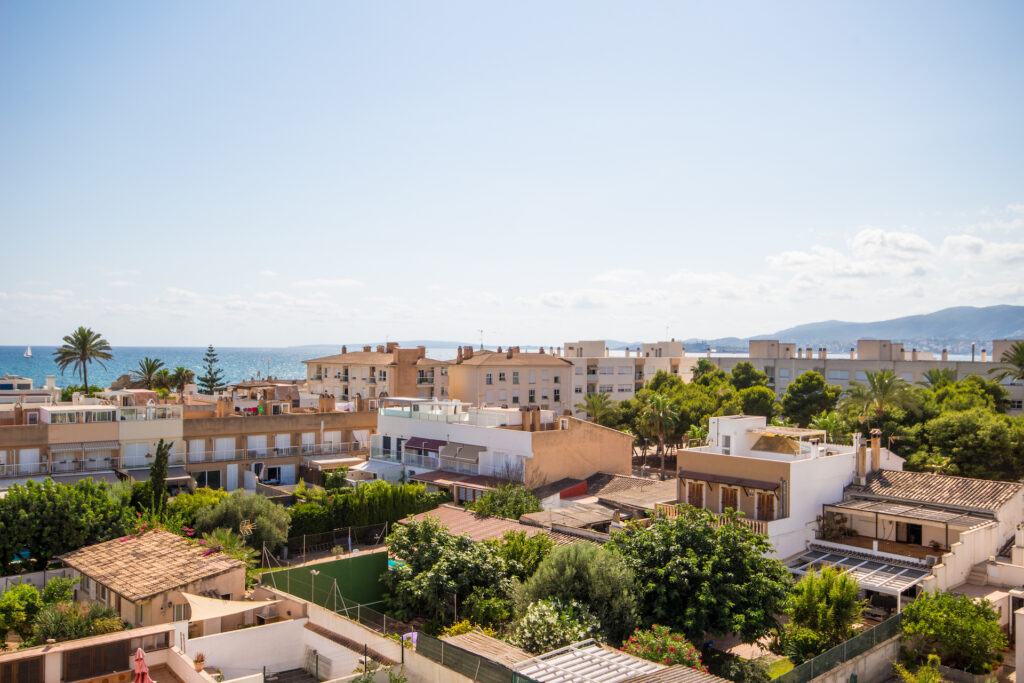 During their home hunting they have seen many properties in different areas, but this specific penthouse in Portixol/Molinar caught their attention, even though it was not love at the first viewing.
"To be honest, when we saw this flat the first time, we were already a bit tired from all the viewings that day and this was the fifth apartment we had seen in a row." Torbjörn
Being exhausted from the day full of viewings, they did not even notice the fantastic sea view you have from the two different terraces. Also, they thought that the property might be too small for their needs. And yet, this penthouse did not let them go, after a few days of thinking and also catching up with Carin, they decided to view it a second time. And when they visited it next time, they finally also noticed the fantastic views you can enjoy from the terraces, and they fell in love with this penthouse.
"At the second viewing we could really see the potential of this apartment and when I was overlooking the sea from the terrace I just thought WOW." Christina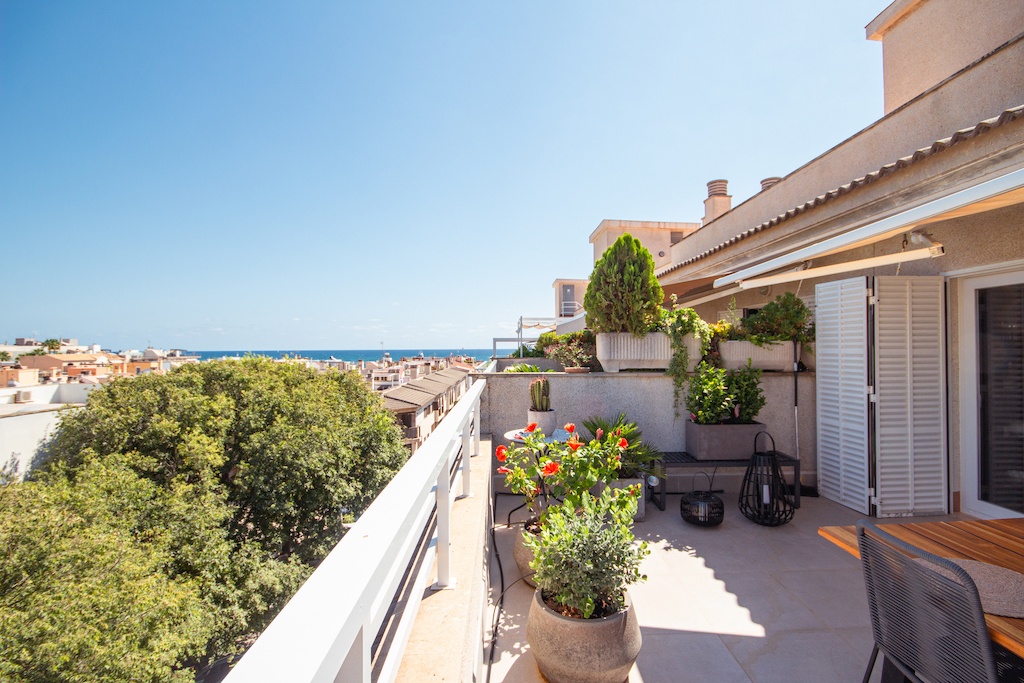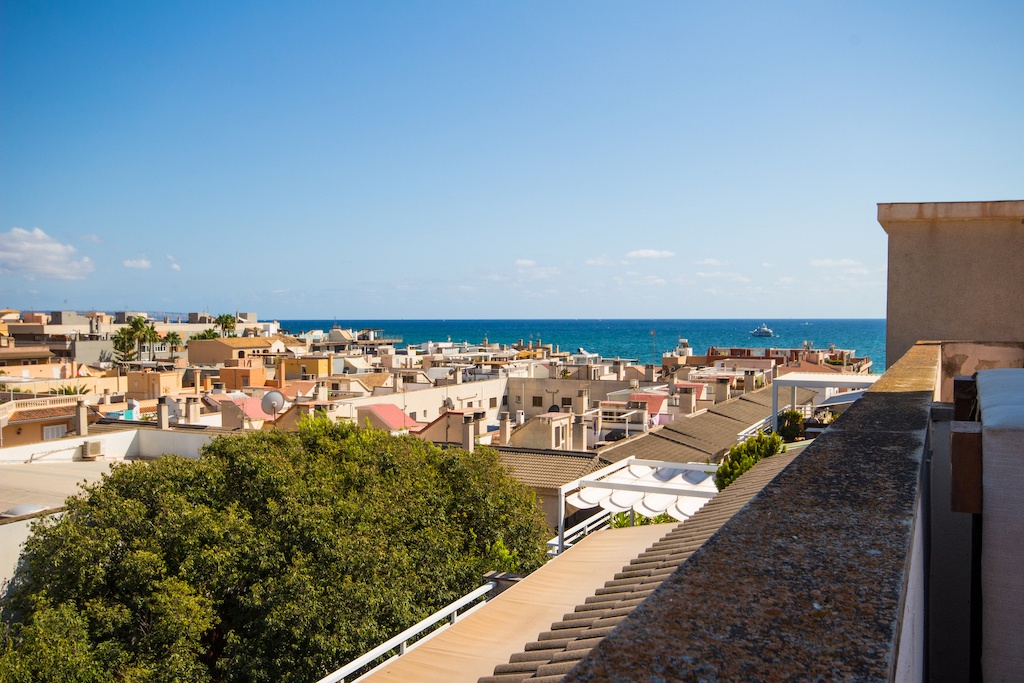 And above all, this penthouse is basically their definition of the perfect Majorcan home, with the mountain views, the beach only a few minutes away and Palma so close by, it was just ideal for them. However, they purchased the apartment in completely different conditions as it is now.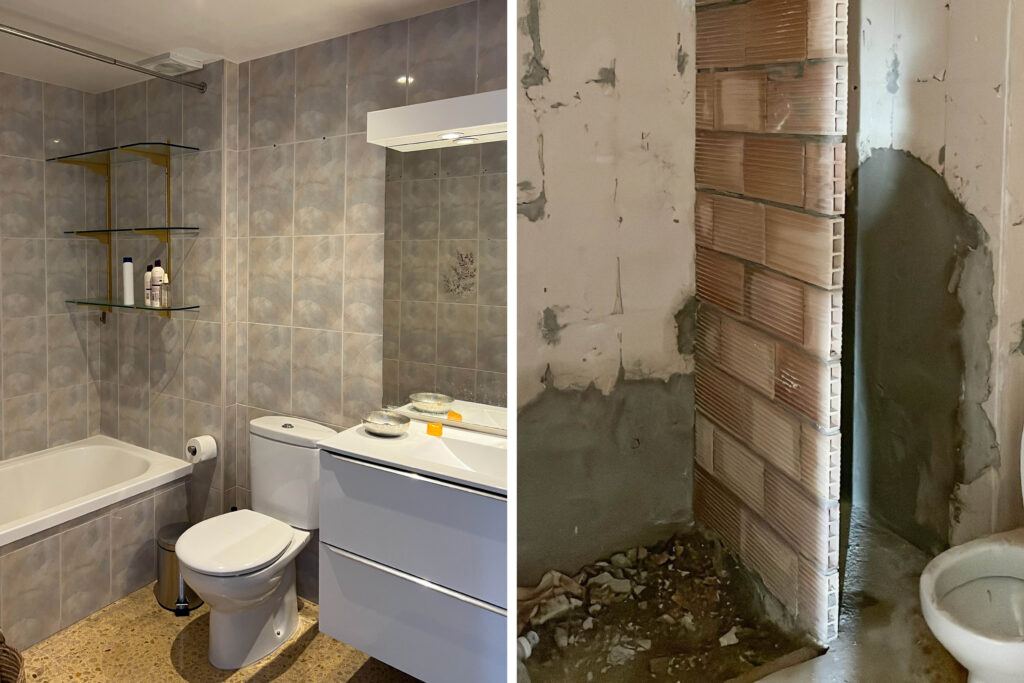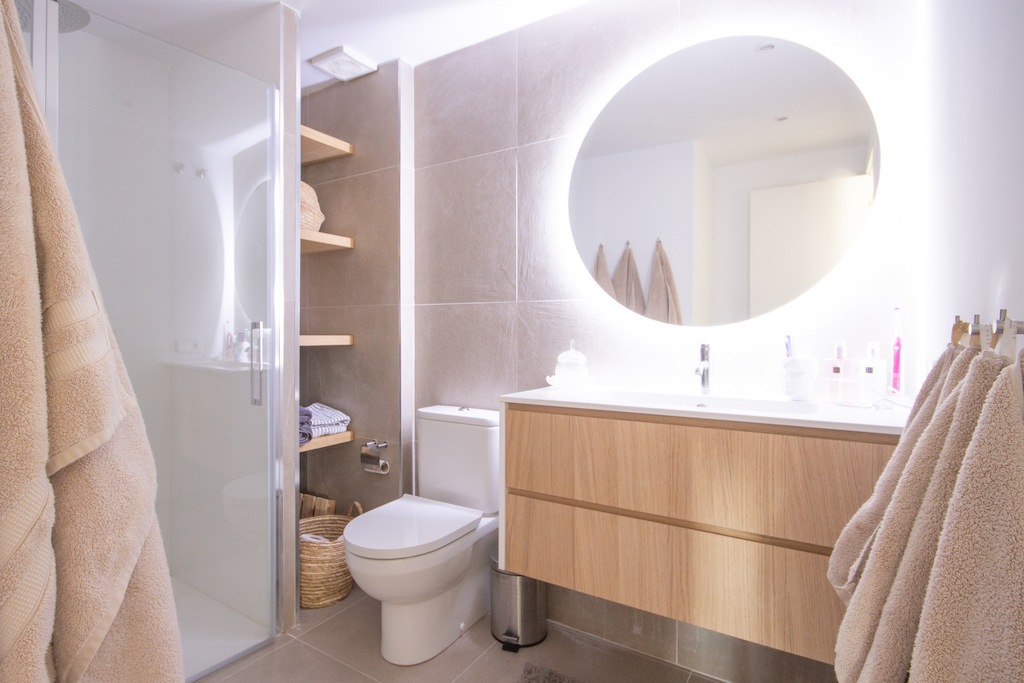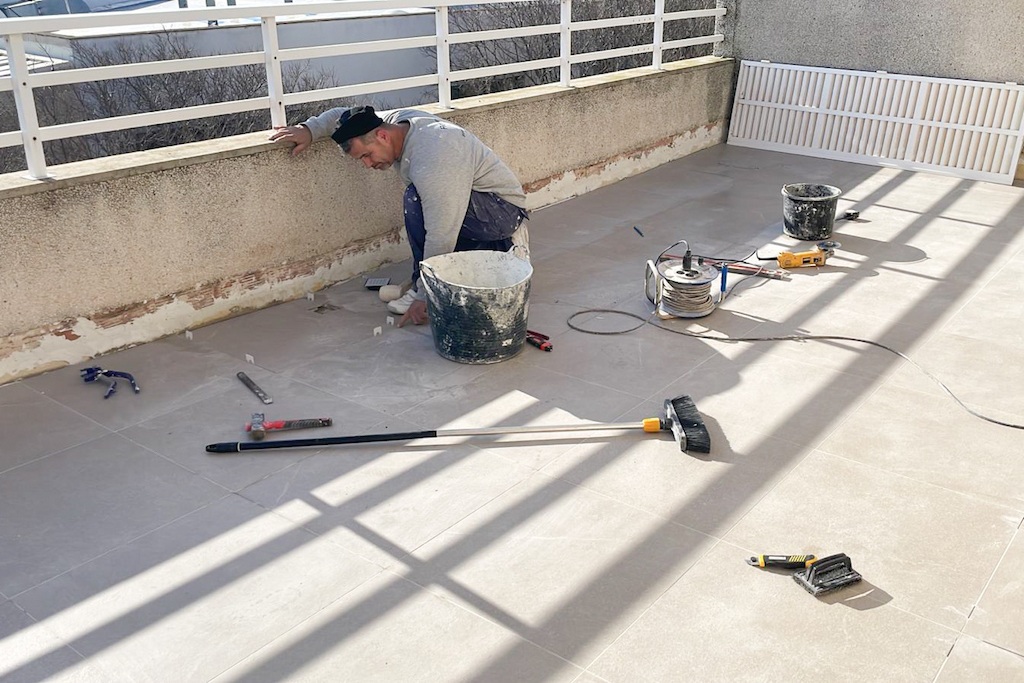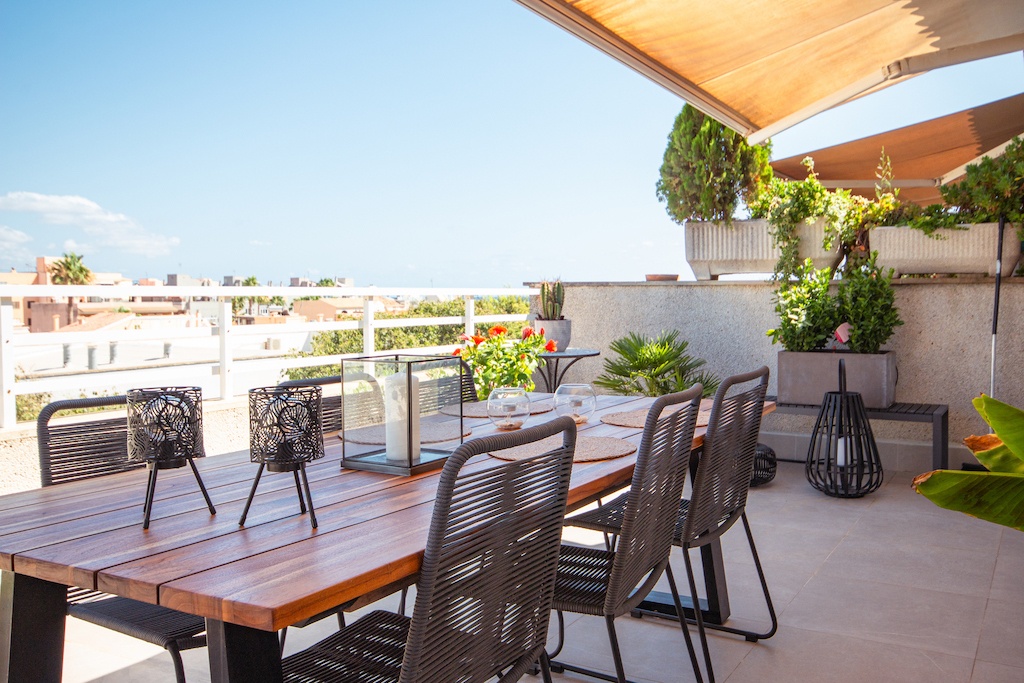 "Even though we did not change the distribution of the flat, we did optimise it as a whole, painted, exchanged the electricity and created a more open and bright space." Torbjörn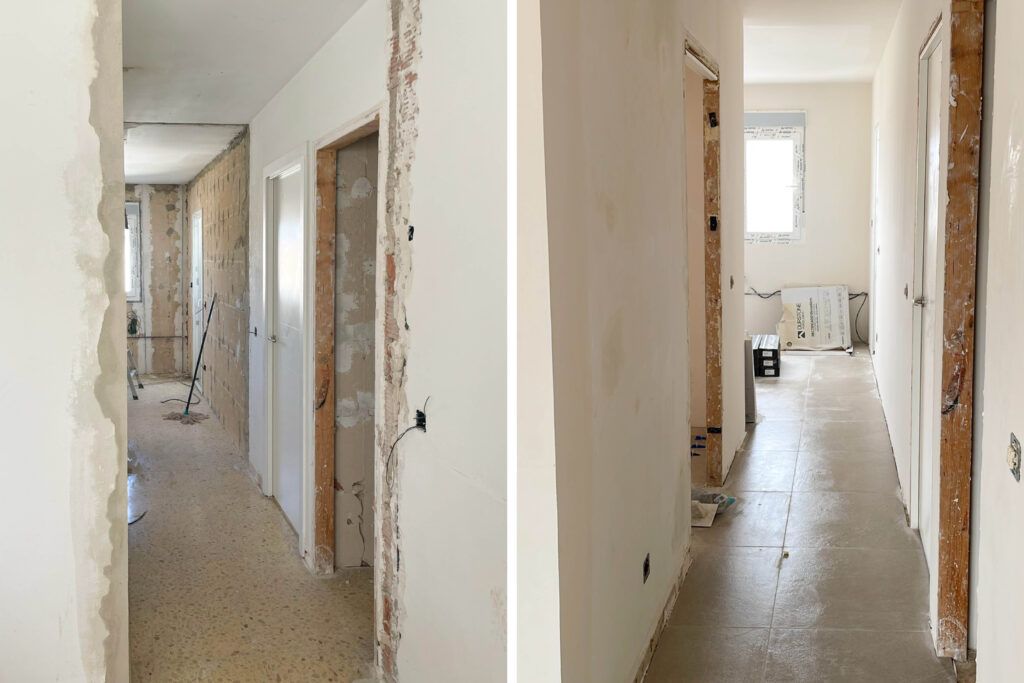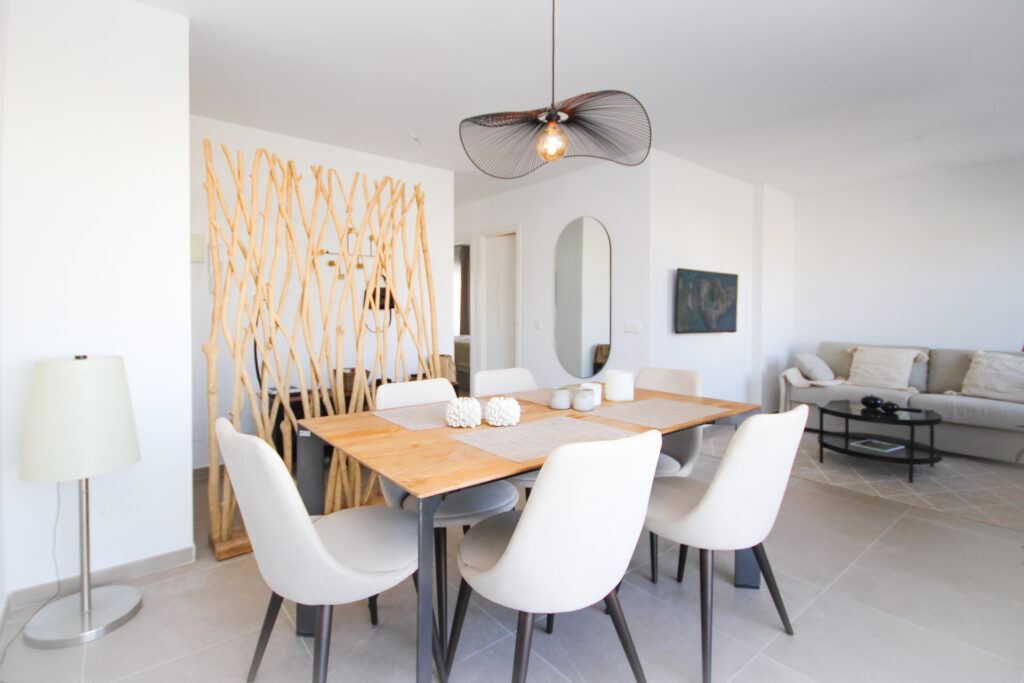 While the couple has been in Sweden, where they also own a house, they have had a trusted project manager on the island who was implementing their ideas and wishes. And within a few months of hard work the apartment has turned into this modern and bright oasis.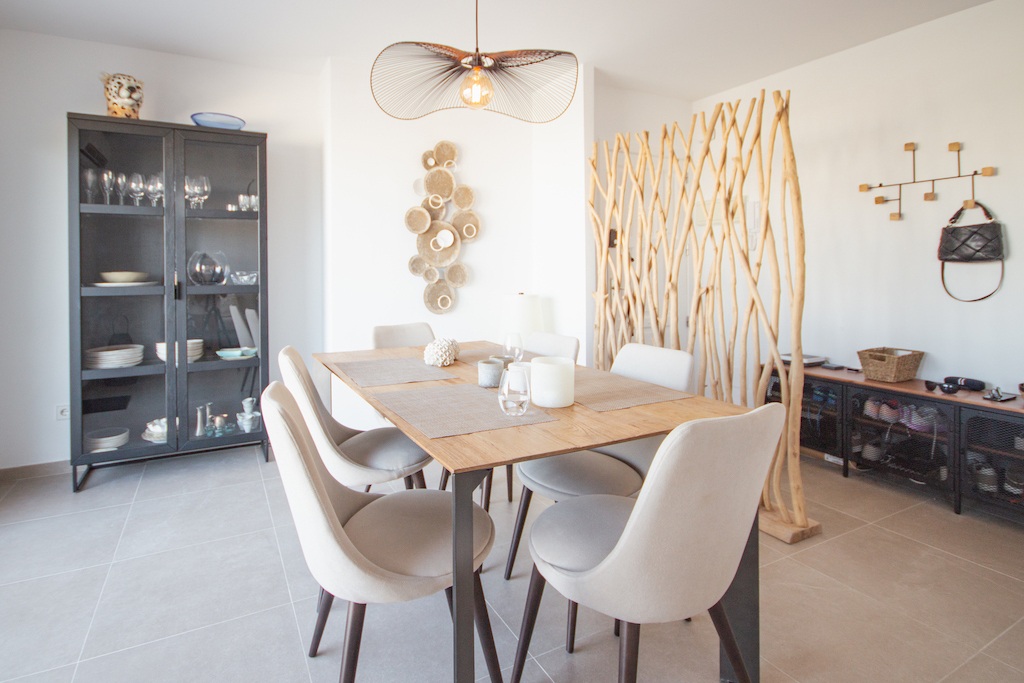 "Of course we are still looking for some small interior details, but all in all, we are super happy with it as it is now." Torbjörn
The modern and Scandinavian interior and colour theme throughout the whole property make this penthouse a real gem. You can see that every detail has been carefully selected and everything fits together. For Christina and Torbjörn it is also important to combine Swedish furniture with Spanish ones.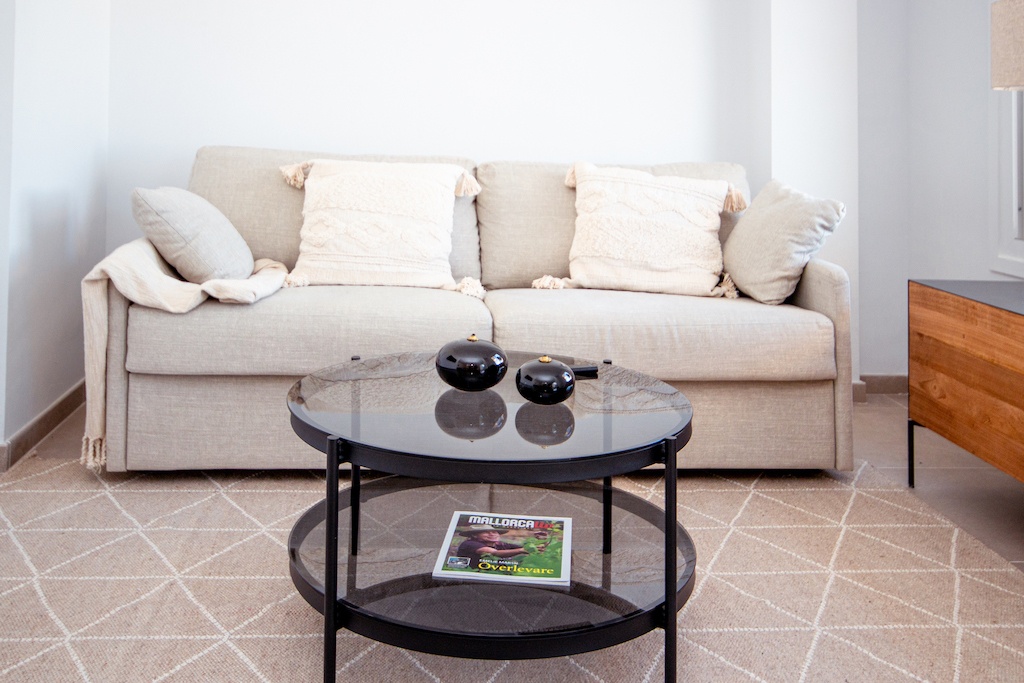 "We live in Spain, and I think it is also nice to have some Spanish interior in our home." Torbjörn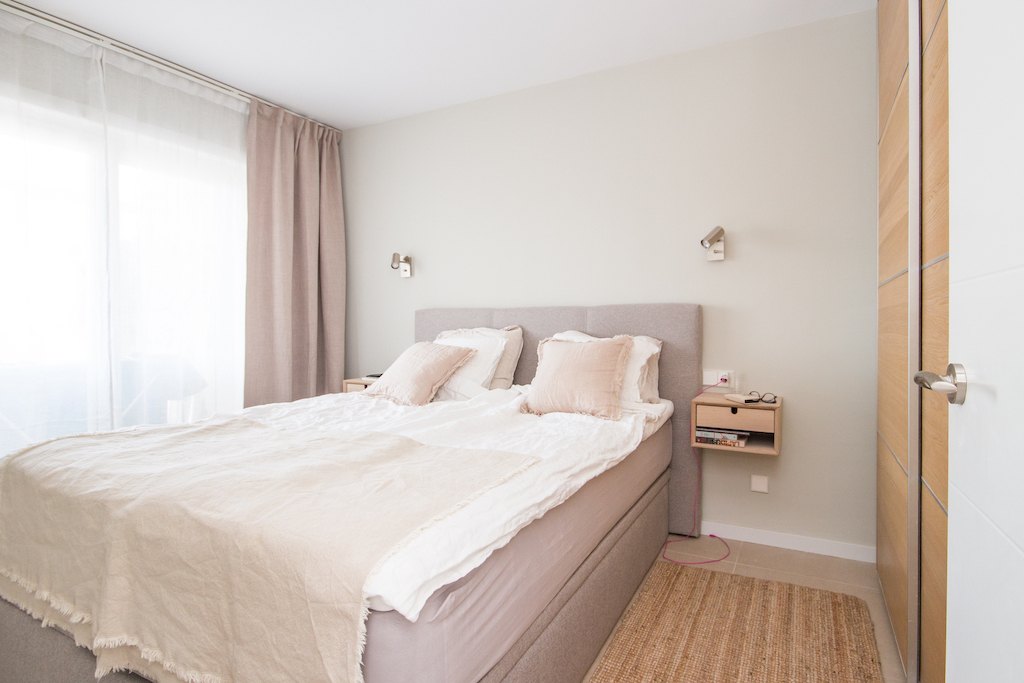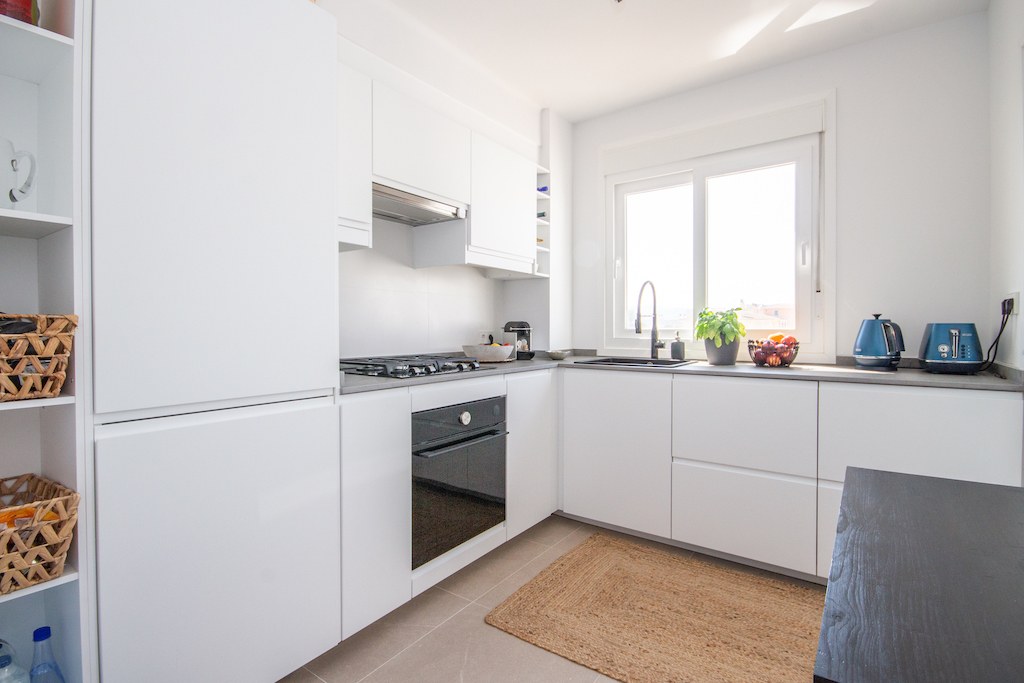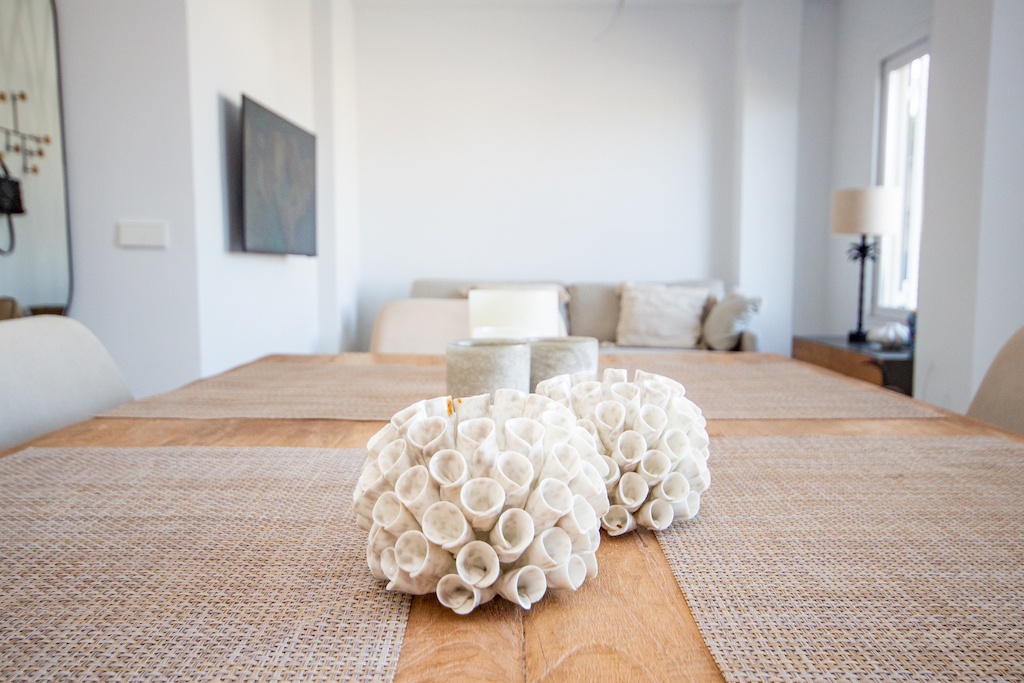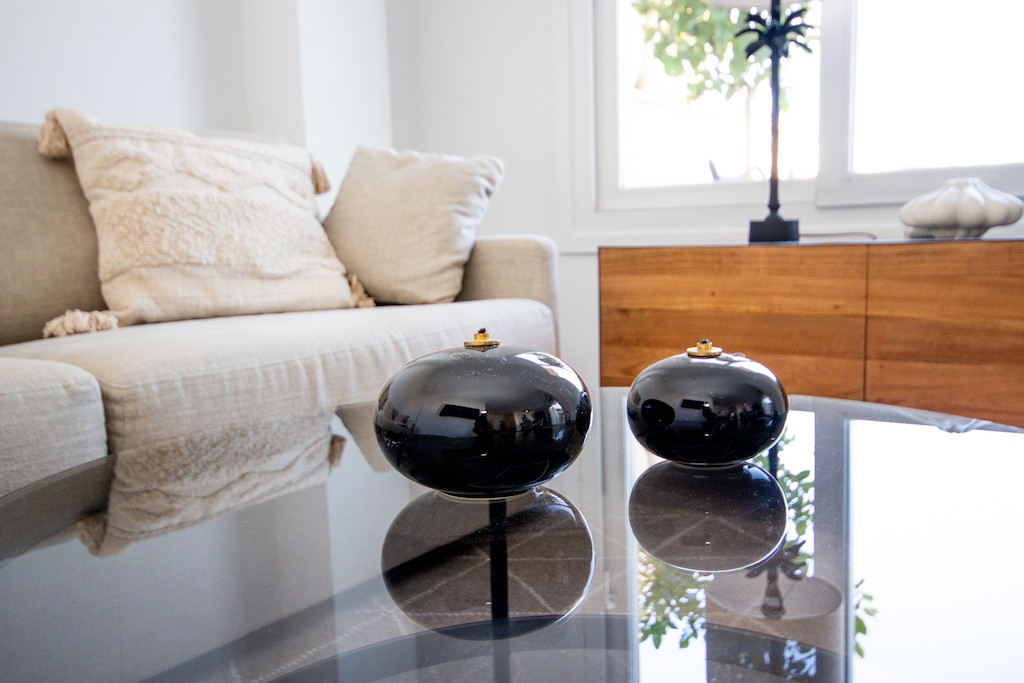 They always keep their eyes open to see if they can find a new piece somewhere that would fit to their Scandinavian but still Mediterranean interior design. And even their Majorcan neighbours are so impressed by their taste and carefully selected materials that they started to follow their example and implemented some of it into their own homes. The couple also started to learn Spanish to integrate even better into the local community here.
"We love to live her among the locals and have a good and friendly relationship with our Majorcan neighbours." Torbjörn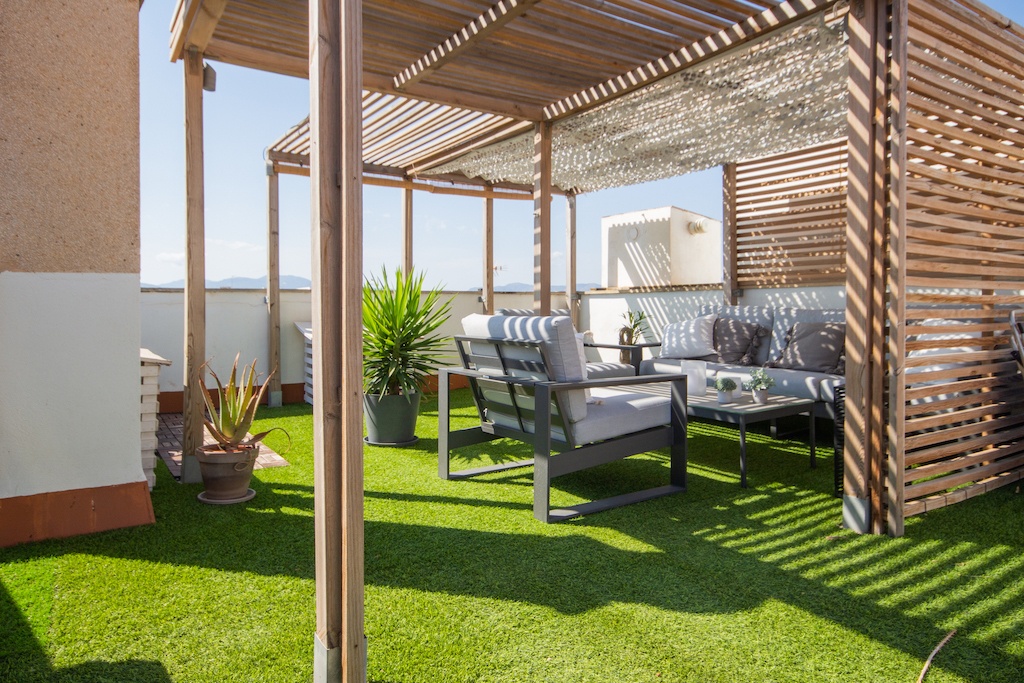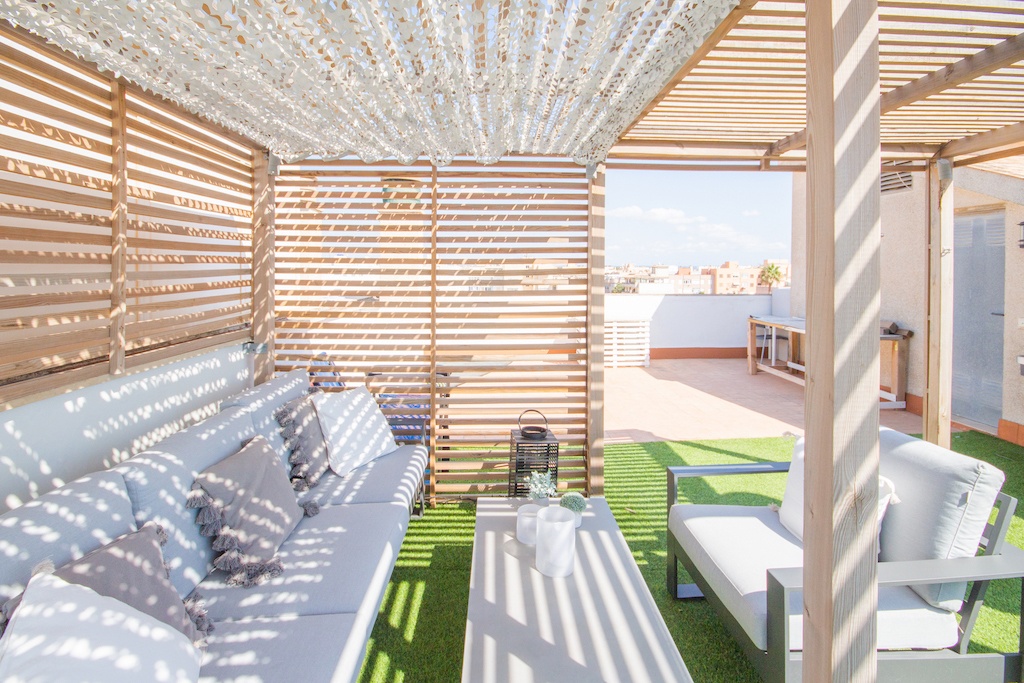 And they could have not chosen a better area than Portixol to enjoy their active and healthy lifestyle to the fullest. Not only have they already signed up for the gym here but also the possibility to try out new activities like yoga or just cycle along the beach promenade to Palma simply makes it so worth living here. And if they are not playing padel with their friends, they discover some delicious restaurants in the area or enjoy some BBQ nights on their roof terrace while watching the sun set over the Tramuntana mountains.
"We like it so much here that we cannot even imagine living ever somewhere else again." Christina & Torbjörn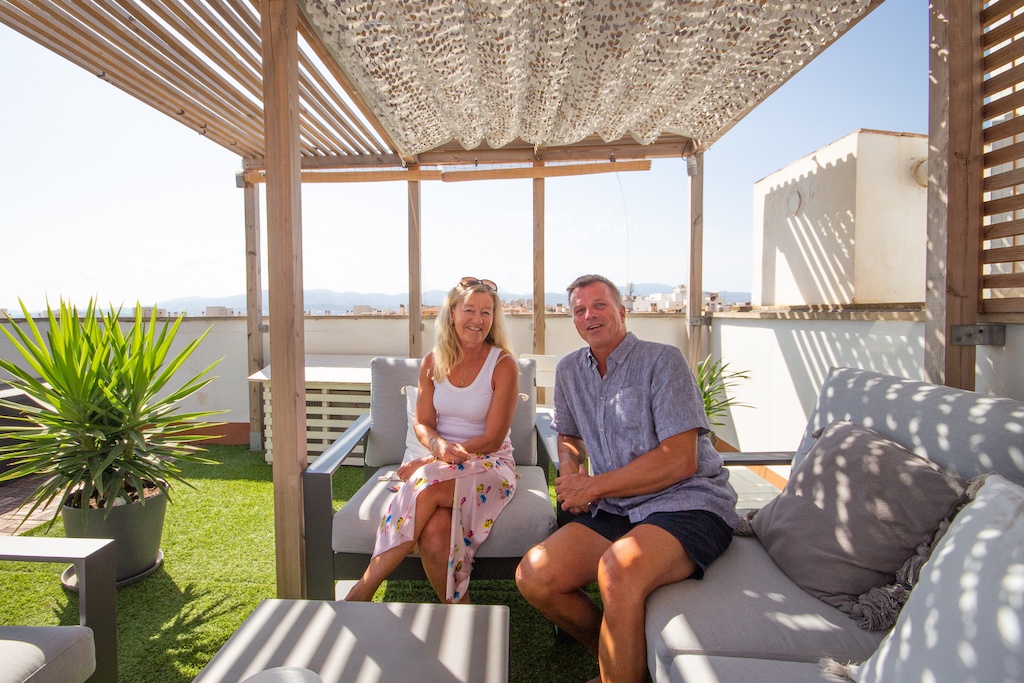 _______________________________
Text: Ines Stangl
Pictures: Madeline Stöckle